The Kansas City Chiefs (10-6) will host the Tennessee Titans (9-7) in the first game of the 2017 playoffs on Saturday afternoon at 3:30 p.m. CT at Arrowhead Stadium.
The Chiefs—winners of four straight—finished the regular season with a second-straight AFC West championship and their fourth playoff berth in five years under head coach Andy Reid, who spoke about the opportunity in front of his team heading into Saturday's playoff game.
"I've already tried to rest the guys up, given them the opportunity so they can come out and give it their best shot there," Reid, who sat a number of starters during Sunday's 27-24 victory over the Denver Broncos, explained. "It really kind of ramps up another notch in the postseason. It's a little faster; guys are a little bit more aggressive.
"It's just one of those things that happens—hard to explain why, single elimination, or whatever it is."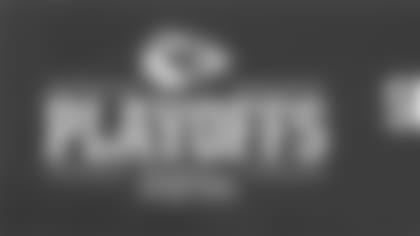 ](https://www1.ticketmaster.com/kansas-city-chiefs-playoff-game-1-kansas-city-missouri-01-14-2018/event/0600536891592930?artistid=805955&tmlink=tmheader_search)
The Chiefs began the season with a perfect 5-0 record but struggled in the middle of the year to the tune of one win in seven attempts before sweeping the final four games of the year.
Through it all, Reid said his team stayed together, which he believes will only help them moving forward.
"They believe in each other first of all, and they trust each other," Reid explained. "You have these ebbs and flows during the season—these highs and lows, and these guys worked through all of those. They didn't get too high; they didn't get too low during the down period—they just kept working.
"It forms strength and trust and all those things," Reid added of the midseason funk. "There's a point where when you lose in the National Football League it's hard on everybody, on the whole organization. You feel accountable, you have to answer a lot of questions that you don't like to answer from family, friends, media, whoever it is, and so trusting each other and supporting each other becomes important to get yourself out of those valleys, and our guys did a good job of that."
Reid admitted that the dip in the middle of the season might have helped this team because they've been tested, tried, and came out on the other end a stronger team.  
"I don't think it hurts because every game has its highs and lows," Reid said. "That's the grit that you develop through those negative situations."
Perhaps most importantly, Reid said the desire and motivation for this team comes from within, they don't need superficial or peripheral help to get them all rowing in the same direction.
"They don't need any extrinsic feed," Reid said. "It's all intrinsic. We don't have to go out of the room to find something to fire us up. We got it right there."
Looking ahead, Reid said that he has already begun preparations for the game against the Titans.
"I've had a chance to dig in and take a look at them," Reid explained Monday afternoon on a conference call with local media. "They've got a good defense. It's an active defense. Their offense is explosive, they've got good runners, good receivers, good quarterback, and an offensive line that is tough, so they've got a good football team very worthy of being in this position."
Another faction of people worthy of being in this position is the tens of thousands of Chiefs fans who will make their way to Arrowhead Stadium on Saturday afternoon to try and help the Chiefs pick up their first playoff win at Arrowhead Stadium in more than 30 years.
They've lost five straight and are obviously looking to break that streak.
"Our fans are a factor," Reid noted. "When you deal with the Chiefs, you're dealing with all of us, and that's a neat thing. We need everybody. We appreciated the support all the way through the season even during the times when we weren't playing so well.
"But there's a rock and roll that goes on here that's like no other stadium in the National Football League. It's packed, it's red, the ground shakes, your voice is rumbling—it doesn't get any better than that.
"It's goosebumps city. That's what it's all about."