Andy Reid has brought a familiar face to help out during training camp.
Over the next three weeks, four-time Pro Bowl quarterback and the No. 1 overall pick in the 2001 NFL Draft, Michael Vick, will be a coaching intern for the Chiefs.
While every team across the league will bring in guys in to help during this time of the year, there aren't many who have the resume of Vick, who was a transcendent player at the quarterback position for most of his 13 years in the league.
"Experience, and another set of eyes from someone who knows the offense," Reid said of why he decided to bring in Vick. "And obviously, he brings that respect from being a great player."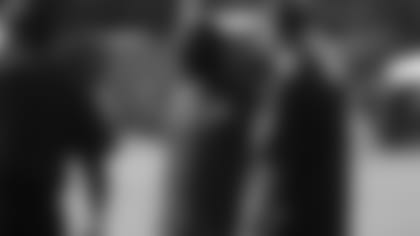 "He's one of those guys that whatever he wanted to do, he could do," Reid added. "He could go into TV, radio, coaching, whatever, I mean he he's a good people person, you know he's quiet, but he's a good people person and he speaks well, and just has a good way about him.
Vick, who spent four years with Reid and the Philadelphia Eagles (2009-12), is with the Chiefs as part of the Bill Walsh Minority Coaching Fellowship, which is designed as a vocational tool to increase the number of full-time minority coaches in the NFL.
Vick, who has never been shy about his feelings and the respect he has for Reid, spoke earlier this offseason about his desire to get into coaching at either the collegiate or NFL level.
"I think my heart is really into teaching, you know, the game of football," Vick told ESPN's Adam Schefter on June 2. "At some point, I'd definitely love to help work with young quarterbacks and develop them and still compete, you know, with the team and with the coaches."
At least for this summer, Vick found a home with Reid and the Chiefs. It's a good spot, too.
Both offensive coordinator Matt Nagy and the new general manager of the Chiefs, Brett Veach, who each know Vick from their time together with the Eagles, began their NFL careers as summer coaching interns.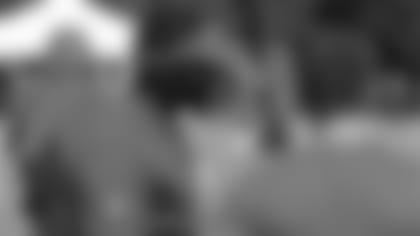 (Vick catching up with new GM Brett Veach on Tuesday)
Vick will help the Chiefs' quarterbacks over the next three weeks, and so he will attend all of their meetings and basically be a sounding board for them to ask questions.
When he first had the idea of bringing Vick to camp to help out, Reid shared the idea with veteran starter Alex Smith, who has known Vick for more than a decade and was the first face Smith saw when he walked into the cafeteria at camp on Monday.
"There aren't that many people in the world who have that kind of experience at the position," Smith explained of Vick. "Mike's obviously a guy that, certainly a lot of us in my generation, early on we're in awe of, and then to watch him as I was in high school and college and then to play against him in the pros for a lot of years, that's always been crazy and exciting and always try to aspire to be like."
"It's fun to have him here in the room," Smith added. "Like I said, it's just another perspective. This guy has played a ton of snaps, he's got a unique look on the game, played in a lot of different offenses, so yeah, it's exciting to have him here and to have that kind of knowledge and sounding board for all of us."
As Vick's desire was to work with young quarterbacks, he'll obviously have that opportunity this summer with the Chiefs' first-round pick, Patrick Mahomes, who much like Vick during his playing days, put up video-game like numbers in college.
Mahomes is absorbing everything Vick tells him like a sponge.
"He's giving us tips that he learned when he was with Reid and the Eagles, talking about the drops and how you want to time them up," Mahomes explained of what Vick has gone over after just one day of camp. "I mean, he had one of the best seasons in NFL history in this offense, so you just listen to everything he says."
After practice, Vick, Nagy and Mike Kafka, who was a teammate of Vick's with the Eagles and is now an assistant coach with the Chiefs, stayed to get some extra work with Mahomes and Joel Stave, another young quarterback.
It's similar to what they had done at OTAs and minicamp, in regards to staying after practice, but this time there was a guy who threw for more than 22,000 yards and had more than 150 touchdowns in his NFL career helping them out as well. 
As they were leaving the field Tuesday and walking up the hill towards the locker room after practice, Vick was all smiles.
"I love it man, I love that he's enjoying it," Reid said. "He's really having a good time and he's into it, and so I love that part."
And what was Reid's message to Vick at he starts this chapter of his career?
"Just to take it all in and not be afraid to share your opinion, and again, get to know the guys and enjoy that part, too."
---
The Chiefs will be back on the field Wednesday morning for their second training camp practice. Find out all the information you need to know about camp, which opens to the public Friday, July 28, by going to Chiefs.com/TrainingCamp.