Kansas City Chiefs head coach Andy Reid didn't have to use words to show everyone what the passing of his former college coach and mentor, legendary BYU coach LaVell Edwards, meant to him—it was visible to anyone watching.
"He was my guy," Reid said of Edwards, who passed away on Thursday at the age of 86 at his home in Provo, Utah. "I'm probably one of 10,000 guys that are saying that right now, and that's what made him unique, right?
"That was the thing that made him such a great person."
Edwards is a coaching legend who won more than 250 games at BYU with 19 conference championships and was twice named the national coach of the year. He was inducted into the College Football Hall of Fame in 2004.
When asked more about their relationship, which spanned to this day—talking weekly on the phone—Reid had a hard time answering the question.
"He was everything," he said, before pausing and having to gather himself. "I get too emotional on these things, so I'll leave it at that."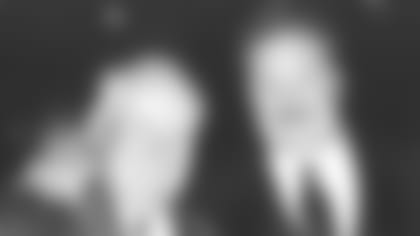 Reid eventually spoke more about his mentor.
"[Edwards] was great with people; he was a people person. You put all the Xs and Os and put that aside—he was good at that too—but you can put all of that aside. It was the way he handled people that I thought was unbelievable. He was the one that talked me into [coaching]. He called me every week from that day on like he had put me in a bad position or something. He was always checking on me.
"I always said that he probably liked my wife more than he liked me and that's why he checked on me."
Edwards quickly noticed how perceptive Reid was about playing along the offensive line.
"We'd be out there practicing and working, and there'd be questions coming up on how to pick up a certain blitz," Edwards noted. "I noticed a lot of times [Reid] was helping the guard, the tackle or the center next to him, to make sure they understood what to do if there was some kind of stunt or whatever they did.
"I remember saying at the time that this guy's got an unusual feel and knowledge of the game."
What stood out to Edwards is how Reid wanted to understand more than just his responsibilities.
"He not only learned and knew what his assignment was, but also the reasons why and the concept of what you're trying to do," Edwards recalled. "A lot of players didn't have that concept or ability, but Andy did. He had a feel for it.
"That's one of the things I admire most about him, and it made me think the more I was around him, the more I watched him, I realized this guy could be a very good coach."
At the time, coaching wasn't on Reid's radar.
At different points in his life, he wanted to be a doctor, or even a writer—something he dabbled in during his time at BYU.
Reid had kept a journal since he was in 11th grade, and during a trip back from Hawaii with the football team at BYU, he was talking with one of the writers of the Provo Daily Herald about his passion for writing. He was minoring in English and the guy asked him if he'd be interested in writing a weekly column for the paper.
"I wrote about our guys and had fun with it," he explained. "It was kind of Jim Murray-ish (the legendary LA Times writer who often used humor and wit in his articles). I'm not going to tell you I was a great writer, but it was fun to do.
"I had a dream when I was a kid to write for Sports Illustrated, but it never worked out that way," explained Reid, who would soon find his true calling. "It wasn't until just before my senior year that coach Edwards asked me if I had ever thought about coaching."
A simple question followed by an offer.
The player who had made it a point to understand everyone's responsibilities, not just his own, and would work with his teammates to make sure they understood what they were doing on any given play, would soon embark on a coaching career that has helped shape the lives of hundreds of others lucky enough to cross paths with him.
"I was very fortunate to play for him," Reid said of Edwards. "He's a tremendous human being and a big influence on me not only as a player, but even now as a coach.
"I talk to him once a week to this day."
Reid became a graduate assistant football coach for BYU in 1982. To read the entire long form, which Edwards is mentioned throughout, follow this link.