Week 11 is officially in the rearview mirror as the Kansas City Chiefs returned to practice Wednesday, focused on their Week 12 opponent, the San Diego Chargers.
Following the team's walkthrough, inside the University of Kansas Hospital Training Complex, Chiefs head coach Andy Reid met with the media, providing an injury update, thoughts on their next AFC West opponent and the addition of the team's newest defensive tackle, Kyle Love.
"We brought in Kyle Love, who is a defensive tackle, nose guard/defensive tackle," coach Reid said. "He'll work in, and we appreciate everything (Anthony) Toribio did here; he's a good kid and worked very hard, but again John (Dorsey) and our staff felt that Kyle has a chance to help us, so, we'll give him a chance (and) see what he can do."
Coach Reid was asked where Love could most likely be utilized.
"I think it will be more of the nose position, but he's done both," coach Reid said. "In New England, they kind of moved him back and forth and I know you know he has the type 2 diabetes; he's got that under control, his weight is good. He looks like he's in pretty good shape. (Chiefs athletic trainer) Rick (Burkholder)and our docs felt that it wasn't an issue, right now. His weight had been up and it was an issue at that time, but he's got that under contrtol, which you have to do with that."
Love met with reporters by his new locker and described the moment when he knew he was going to be a member of the Kansas City Chiefs.
"It was a good reaction," Love said. "It was my birthday; what better present could you get than that. I'm happy. God works in mysterious ways. I'm ready to go. Everybody's nice around here; I like to see the smiles around here; you don't usually get that in other places. I just want to come in, do my job, be a part of this organization and do the best that I can for them. I just want to play football."
Love spoke more about his type 2 diabetes and how he managed to get it under control.
"It didn't take long at all," Love said. "I knew I was eating bad; I just had to cut out all the bad habits. Everything's been pretty good. A lot of people try to blow it out of proportion, like I lost a lot of weight, because of diabetes, that wasn't the case. I lost weight on my own and then the diabetes hit me. I lost about 20 pounds, on my own, and then I found out about the diabetes and I probably lost about five more pounds after that. I got down to 295; I was 312 pounds, yesterday. This is probably the lightest I've been, since I've been in the league, so I'm kind of excited to see how I do out there."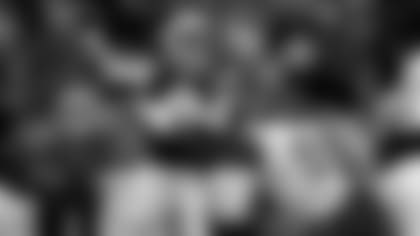 Love joins the Chiefs during a week in which they're trying to get back in the win column and according to Chiefs Pro Bowl LB Tamba Hali, the team's mindset is right where it needs to be.
"Our mindset right now, we're playing another divisional game," Hali said. "We have to capitalize on that. We wanted to win the game, but that didn't happen. We can't hang our hat on that game; there are more games for us to win and we just have to focus on the next team." 
The next team is a San Diego Chargers squad that is led on offense by QB Philip Rivers.
"He knows how to work the pocket," Hali said of Rivers. "He drops back far in the pocket and then to climb the pocket, it's hard for rushers, because we think we can get there, from the edge, and he's inside; so, we have to do a good job as far as rushing him."
The Chiefs leader on offense, QB Alex Smith was asked about the ability of his team to bounce back from its first loss of the regular season.
"I think a lot of guys on the plane ride back were disappointed, as we should have been, but I think guys understand that we still have everything ahead of us," Smith said. "Everything we want is still ahead of us and we can't have an emotional letdown off of a big week, last week. It's a division game, at home, it starts today; it starts with having a great Wednesday. These division games are so big, every single one of them, and they all get bigger as the year goes on."
Helping block for Smith on the Chiefs offensive line has been Donald Stephenson, who spoke to always being prepared, when his name is called.
"I knew that was going to be my job, if anybody goes down, I'm in," Stephenson said. "I prepare like that every week, so there are no surprises and I'm prepared for whatever the team needs."
Stephenson also previewed a talented Chargers defensive front.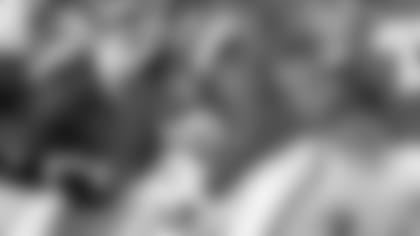 "They got big, strong guys up-front," Stephenson said. "They look pretty good up-front. We have to get on the film, look at the games and get ourselves prepared for their best shot."
And as far as returning home to Arrowhead Stadium, Stephenson welcomed the home-field advantage, provided by the most passionate fanbase in the league.
"Should be loud again," Stephenson said. "It's the Chargers, another divisional game. We're coming off a loss, so I'm pretty sure the fans are hungry to get a win."
The Chiefs prep work for Week 12 continues Thursday, when we'll hear from special teams coordinator Dave Toub, offensive coordinator Doug Pederson and defensive coordinator Bob Sutton.
For a look at the team's injury report from Wednesday, click here.