Growing up, I remember watching the Kansas City Chiefs on television, being in awe every game of Pro Football Hall of Fame LB Derrick Thomas, who blew by offensive linemen on his way to yet another QB sack. Former Denver Broncos QB John Elway probably still sees "DT" in his sleep.
I remember cheering for Chiefs RB Christian Okoye as "The Nigerian Nightmare" consistently ran over opposing defenders like they were shadows. Even more, I remember watching the Chiefs opponents, bewildered by the powerful reality of the Arrowhead Stadium crowd.
In less than 24 hours from now, I can't wait to experience my first sold-out Arrowhead Stadium crowd, which is sure to provide a priceless memory for all of the Chiefs, including the team's new coaches and players, who described what they anticipate in Sunday's home opener.
"I'm excited to experience this part of it. I'd rather be on this end than that end (opposition). I know how loud it can be and I look forward to bringing an opponent in, so they can have that same experience with the fans that can be very loud."
Offensive Coordinator - Doug Pederson
"I came here a couple of times as a visitor and it's extremely loud and it's tough on visiting teams. I'm just excited to open up the season against the Cowboys in Arrowhead Stadium. The fans are going to be juiced up and ready to go and our players will feed off of that and I'm excited to see on Sunday at noon just exactly the type of crowd and enthusiasm that we have."
Defensive Coordinator - Bob Sutton
"Having been here once before as an opposing coach, when it was sold out, I know that it can get really loud and I'm hoping it's louder than I remember. We have great fans. Kansas City is one of the places that when you're starting out in the National Football League, they'll tell you that's one of the great places to go and play. I'm really looking forward to it and I think our players are too, obviously. It should be a good atmosphere. As always, we'll take any help we can get. If they can make it hard on that offense and make the noise level rise, that'd be awesome."
NEW CHIEFS VIA TRADE OR FREE AGENCY
"I'm really excited. I'm excited that we're 1-0 and coming home. Since I've gotten here, this fan base has impressed me with how hungry and how dedicated it is. I'm excited to see what it's going to be like."
"It's going to be unbelievable. I get goose bumps thinking about it. I know our fans are so excited to actually come to a home game – the very first game of the season – it means a lot. We had a bunch of fans at our two preseason games, but now it's the real season. They understand it. Our fans are smart. They know that they play a big role in our home-field advantage. I mean they really do. People don't want to come here and play the Kansas City Chiefs, due to our home-field advantage. The fans are going to be unbelievable."
"It's going to be awesome. I'm glad I'm here and on the home team. I was here last year and it wasn't a sold-out crowd, but it was still really loud. I'm excited."
"I'm going to be so excited out there; the stadium is going to be rocking, the place is going to be packed. The fans have been excited about what's going on with the organization and the moves and changes going on around here, so, I just can't wait to run out there and put on a show for them."
"I'm sure it's going to be exciting; I've heard nothing but how great these fans are and how loud the stadium gets. We saw a glimpse of it in the preseason and now we get to see the real thing."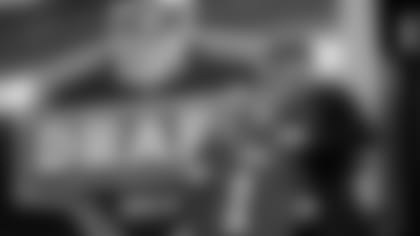 "I think it's going to be pretty loud. You're not going to be able to hear yourself think. I'm really looking forward to it. Obviously, this is home for us and we take pride in playing at home. We really want to give the fans what they came to the game for. We're working for the city. We want to make the city proud and get another win and get this ball rolling."
"It's an unbelievable feeling; you work so hard to get to this point in your career, that now you can just go out there and have the best time of your life. Everybody's excited for this team. We're going to go out there and have some fun, for sure."
"I'm going to be excited. I know the game plan, so I'm confident of what we're going to do and I'm just going to do my part out there and have fun doing it."
"I'm very excited. I think my emotions will be very high, because this will be my first actual game, because I was out the first week with an injury. I think it's going to be unreal. I just can't wait; going into Arrowhead 1-0, against the Cowboys, against a good team."
Chiefs DB - Sanders Commings
"Even though I won't be playing, I'll be so excited. I have the same emotions as if I was suiting up for this game. I've grown to know these guys in this locker room; I'm part of the family and I can't wait to see us go out there and perform well and hopefully get this victory in front of all the fans."
"I'm going to have goose bumps. It's going to be absolutely wild to see everybody excited and I'm glad everybody's excited for this team. We're changing things around here and it's going to be a lot of fun. I can't wait to hear the national anthem, when everybody says 'home of the Chiefs'; I'm going to be covered in goose bumps."
Chiefs DE - Mike Catapano
"Anything I've ever felt before, this will be that times 100. I've never seen an entire city rally around a team like this or a team itself that's so unbelievable; I can't wait to see it."