A picture might be worth a thousand words, but from the moment you walk inside 21G - Art with a Soul, the digital imagery of Chris Sembower, the founder and owner of this new store at Oak Park Mall, invokes more than words.
It brings upon an emotion that many can identify with, particularly to those of Chiefs Kingdom, for whom much of the work is centered around.
The walls are covered with this new brand of digital artistry, which Sembower, a 28-year-old native of Kansas City, developed over time and through a journey of both triumph and heartache.
---
---
"When I was growing up, it was Chiefs football on Sunday—Derrick Thomas, sack-fumble—that was it," Sembower recalled. "That's engraved in my memory and a lot of those moments, I shared with my dad."
As is the case with many members of Chiefs Kingdom, Sembower's love for the Chiefs was passed down from one generation to the next.
"Football games for Chris and his dad were an opportunity for them to bond," Sembower's mother, Virginia, said. "They both shared that love of football, love of the Chiefs and that was kind of their thing and I just let them go with it.
"I was just delighted that they could have that."
But long before Sembower knew what this connection to the Chiefs might mean for him some 20 years later, he needed to deal with the difficult hand life had dealt he and his family.
While on vacation, Sembower's parents approached him with startling news.
"My parents brought me out on the back porch and explained to me that my dad had progressive multiple sclerosis," Sembower recalled. "In true progressive fashion, it went downhill and steadily worsened over the next 15 years.
---
---
"I went through a period where, probably when I was around middle-school age, where he started going to the hospital on a pretty regular basis. It became almost customary."
What was also customary during this time for Chris and his father was the Chiefs, every Sunday, together.
Then, in late May 2007, Sembower received the call he had received many times before, but this time it would turn out much differently.
"My mom called me and it was just like any other day," he recalled. "'Dad's going to the hospital. Get your stuff and we're rallying the troops, so meet us there.'
"When I got there, he was in a coma."
On May 27, 2007, Chris, his younger brother, Kyle, and his mother, Virginia, lost their father and husband.
Even now, some eight years later, that pain still exists.
"It's been a long road uphill ever since—trying to get my life back in order, to figure out what that looks like without him in it," Sembower said.
Much of the help in getting things back on track came from his mother.
"She is sort of the bedrock of the family," he said. "She's had a long life of being selfless. I don't think that my dad would have lived as long as he did if my mom had not been that type of person.
"I got to watch them live and really show what marriage vows really mean in the toughest of circumstances, 'till death do us part."
---
---
Both Virginia and Todd were artists.
It wasn't just a love for the Chiefs that had passed down through the Sembower family; the passion for art did as well.
Chris' first job in high school was at Worlds of Fun doing caricature drawings each summer for people passing through the park.
But after his father's passing, Sembower struggled to find meaning behind what he was doing and creating with his work.
"This was the piece of me that I had since I was a kid," he explained. "I couldn't figure out for the life of me how to get it back. I needed to get back to my roots. I needed to get back to painting, to using my hands. I needed to choose a subject matter that I was passionate about."
Then, just like that, it happened.
Sembower used his love for the Chiefs as a way to focus his energy into two of his passions.
"I have this calling," he explained. "I know what gets people excited—how to drop people into those special moments where they can almost predict what's about to happen next—somebody's about to get hit or somebody's about to catch the ball. Arrowhead is about to absolutely erupt and turn into a giant sparkler.
"I'm sort of like a graphic design cheerleader in that sense."
The Chiefs were the root of some of his fondest memories spent with his father growing up, and now they were the root that reinvigorated his passion for art.
"I've always described the style as exaggerated realism."
For Sembower, the ability to create a work of art that gives people an emotional response, particularly when featuring the crown jewel of Chiefs Kingdom, Arrowhead Stadium, was the goal.
"I was at the Thanksgiving day game a few years back and it actually became the inspiration for one of my paintings later—the electric Arrowhead piece," he said. "There was this memory that I have of the game that I've never been able to recreate in any environment.
"I remember the crowd was so loud, the noise, it actually started to crackle and distort like it was being fed through a bad amp and I remember how cool that sounded.
"It literally gave me goose bumps."
---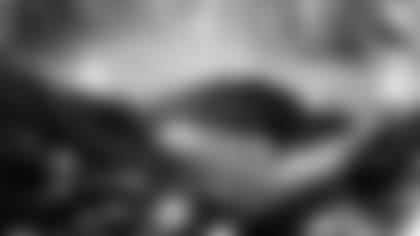 ---
Long before he had a storefront in one of the most popular malls in Kansas City, Sembower needed a platform to promote his work.
That platform became ArrowheadPride.com, an SB Nation blog that Sembower used on a regular basis to get his work seen by other Chiefs fans.
"We first really noticed Chris, I guess it was shortly before the Steelers game in 2009," Joel Thorman, editor of Arrowhead Pride, said. "He was a commenter on our site and he put up this painting that he said was his.
Sembower began to post a series that he called "Posterized," and it garnered him quite the following. 
"The entire series was supposed to be this organic project where I could get my name out there a little bit, I could showcase some of my talents," he explained. "I also found a really cool niche that I was passionate about, that not only was I passionate about it, but I was the only person playing in that playground."
Once Sembower found a platform, the Internet did the rest.
---
---
After a few years of putting his work out there, the organization that had brought Sembower and his father closer together through some of the toughest times in his family's life wanted to work with him.
"I was at home working and I decided to change the background on my computer," Rob Alberino, the former vice president of media and marketing for the Chiefs, said. "The season was about to start and I was getting excited. So I started to google Tamba Hali and up comes this almost superheroesque picture of Tamba. I was blown away.
"I came across this website, ChrisSembower.com, and he had this Posterized series. It was literally just like a gift, so the next morning I got into work and I asked my crew, I said 'Has anybody seen this guy? Has anybody seen what this artist can do?' And every one of them answered yes.
"As a matter of fact, some of the other guys had Chris' work on their computer and that's when I knew it was time to reach out to him."
For Sembower, that was a defining moment.
"When I first got the email from the Chiefs saying that they wanted to connect," he recalled. "It was probably one of the happiest moments of my life. It seemed like all of these different pieces of my life were converging all at once."
"I had the opportunity to come into the Chiefs offices and collaborate on a couple of souvenir cups that the fans will get to take home," he said. "This is one of the biggest moments of my life. This will actually be the first object that I had ever designed. It will not be a flat piece.
"There's really only a piece of this that's viewable at one time, so one way that I sort of facilitate that is by creating really strong diagonals all across the composition, which naturally makes you want to spin the cup and look at all of it.
"This is something that somebody can drink out of. I love that."
---
---
From drawing caricatures at Worlds of Fun as a teenager to spending countless hours creating free works of art for the Internet, Sembower was finally brought in to assist the very team that had refueled his passion for art because of the connection to the Chiefs his father instilled in him.
When Chiefs Kingdom is described as a family, look no further than Chris Sembower's story for a tangible definition.
Now, Sembower doesn't have to look for new Internet platforms to get his work out there. You can find him at his store in Oak Park Mall, where he is surrounded by the product of his passion, something he may soon be passing down to others by providing art lessons to kids interested in the craft.
"It was really important for me to get this in front of people," he explained. "They had to see it with their own eyes, they had to see it printed on a medium that they could get excited about.
"It's a dream come true. This is everything I've been working for over the last five years."
That hard work, fueled by a passion and love for the Chiefs, ultimately led him to opening his store, which has a name with a special meaning to Sembower, in early March.
"21G" is a reference to the work of Dr. Duncan MacDougall and his determination to render scientific proof in the early 1900s that the human soul had mass and therefore was measureable (and real).
His experiment focused on a group of terminally ill patients who agreed to help. Placed on enormous scales, each patient was weighed before and after their imminent death. Each person's scale showed a sudden loss of three-fourths of an ounce, or 21 grams, giving rise to the "21-gram myth."
Sembower and his store, 21G - Art with a Soul, encompass more than simply what is seen, but what is felt and imagined by both he and those who view his work.
For much of Chiefs Kingdom, words can't adequately describe the emotions felt when you see one of these pieces of art, regardless of whether it portrays Christian Okoye, Derrick Thomas or Len Dawson. Some things are just beyond words.
For Sembower, that's everything.
"I can take them to that place."
---
Embedded throughout the article are the four acts of the Chiefs Kingdom episode on Sembower, which originally posted on KCChiefs.com October 11, 2013. The episode won a regional Emmy as well as a Gold Medal at the New York TV and Film Festival.
---
Artist Chris Sembower opens a new retail location at Oak Park Mall.