A photograph can be powerful. It possesses the ability to capture the raw emotion of a singular moment through an otherwise fleeting snippet of time, whether that be the thrill of a postseason victory or a fan simply experiencing their first Chiefs' game.
We began to explore several of those moments a few weeks ago and will continue to do so moving forward along with commentary from Chiefs' team photographer Steve Sanders, who has been on the job for 12 years. Sanders hand-selected each of the eight photos featured in this series as his personal favorites, picking a variety of images from the 2020 campaign.
We'll continue with No. 5: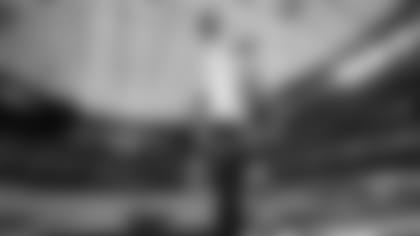 Game: Week 11 at Las Vegas
The Subject: Wide receiver Tyreek Hill hauls in a one-handed catch during warmups.
Camera Model: Canon EOS-1D X Mark III
Q: What was happening in this photo?
Sanders: "It's kind of a tradition every game. Tyreek and a couple of the other receivers all work on one-handed catches. [Wide Receivers' Coach] Joe Bleymaier will fire balls that go right over the goal post or right around the bottom of the post, just so they can work on their hands and their timing, and they all do a series with one-handed catches," Sanders said. "This one, being in the new Raiders' stadium in Vegas, it kind of had the cool, opaque ceiling going on. I just thought it was pretty cool. Normally, I try to shoot this from the front of the player, but I thought we'd try something different."
Q: How high do you think Tyreek is jumping here?
Sanders: "The top of his hand is probably 11 or 11 and a half feet up to catch that ball," Sanders said. "His vertical is insane."
Q: Sometimes you have the chance to show the guys your photos in the moment. Was that the case here?
Sanders: "I don't think I had the chance. He finished up with his rep – I think this was the last one – and he jogged off," Sanders recalled. "We looked at it later though and I did send him a copy. I always try to send stuff like this out to the guys. They like to see photos like this, especially when they're jumping this high."