* "Behind the Lens" is an article series on KCChiefs.com that highlights some of the most iconic images in the Kansas City Chiefs archives. This week, the series features fascinating images of the offseason.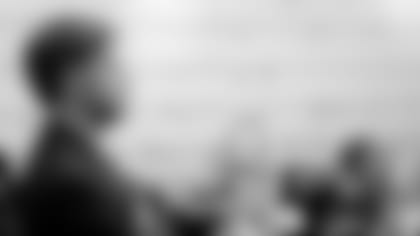 CEO and Chairman Clark Hunt and Andy Reid in the 2013 Draft Room
Model:Canon EOS 5D Mark III
Photographer comments: "In 2013, I was allowed to be in the draft room for the first time during our pick, so the direction I had was to just be in the room, be out of sight, be quiet and just capture what was going on, so I thought it would be key to get a picture of Clark Hunt really surveying the draft as it was going on.
"This was the first draft with the new regime that he had just put in place, and I thought we had the leader in this photograph. He's taking everything in, watching his room, and watching the draft develop.
"[In this photo] we were just getting ready to make our pick and John (Dorsey) had come over and discussed with Andy (Reid) and Clark and walked away and Clark was just watching the TV, watching the draft develop and just watching it all happen.
"This was our first overall pick, Eric Fisher."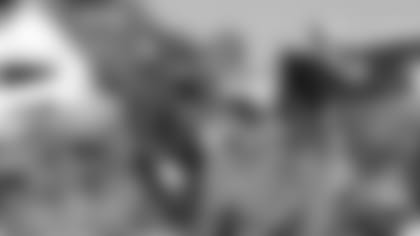 The Chiefs Help Out the City of Joplin
Model:Canon EOS-1D Mark IV
Pictured in center:Doug Schallenberg of the Chiefs grounds keeping staff
Photographer comments:"Joplin had a major F5 tornado in the spring of 2011 and as an organization, we tried to do everything we could to help them, which included going down to have a cleanup day just to help them try to get their lives back together. It was during the football lockout. We had special permission from the league and we had players and staff alike. We took three or four buses down to Joplin and went to work. The devastation of the city was just unbelievable. Until you see it in person, you can't imagine the devastation of an F5 tornado.
"When we got off the bus, they gave us all masks and gloves because they said they didn't know what we might find or what some of the chemicals in the air could be or anything. They really wanted us to be safe and I think the photograph just really shows it's so epic. We got this big house behind and the roof of the house just kind of sitting in the yard and it just sticks in dirt. It's crazy."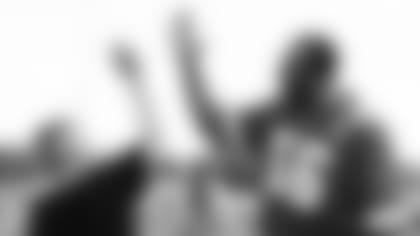 Derrick Johnson at the Play 60 Ability Camp
Photographer comments: "This is Derrick Johnson at the Play 60 Ability Camp in the offseason. It's at the inner city football fields on Van Brundt. Every year, we've been hosting this event. It's a Play 60 event that allows the kids with special needs to interact with the football players and really get some one-on-one time or some coaching and some inspiration from the athletes.
"In this particular picture, it's a high-five, but that emotion that DJ has in his face and you can't see the child's face, but you can tell that he's smiling by the way that his cheeks look and his profile and everybody was just so into it at this event. It was a lot of fun."
---
Follow the Chiefs team photographer, Steve Sanders, on Instagram at***65tptphotog***.