Brooke and Molly in Aruba
Model:Canon EOS-1Ds Mark III
Photographer comments: "We were able to do some scouting the first day we arrived to Aruba and found this location. One of the real challenging things about Aruba was everywhere around the water was volcanic rock, so everything was sharp and hard to walk on. For some reason, early in the morning on this side of the island, it was really heavy, salty mist in the air, so when we got in the car after traveling about an hour to get there, we had a lot more issues than we expected. It takes a lot more preparation. You're wiping the camera off a lot because of the thick, heavy air. You just have to keep reacting to whatever Mother Nature throws at you."
Cheerleader director Stephanie Judah's comments:"When I see this photo, I think about Brooke and Molly's rookie year when this was shot. Four years ago, when they made our team, it was the first time we'd ever had identical twins. When we were shooting this, I can remember Steve telling them to turn their head and they both did it at the exact same time in the exact same way. It's crazy. Even when they are nervous, their nervous ticks are exactly the same. It's also fun to see two people that obviously love and care about each other so much get to celebrate and experience something that's really unique but get to do it together."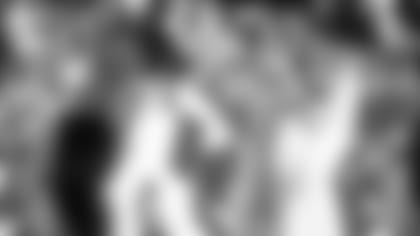 Model:Canon EOS 5D Mark III
Sanders' comments: "My favorite thing about this photo is the selective focus. That flag that we use to celebrate after touchdowns is right in between the cheerleaders. You have the spirit that the girls are showing and if I see that, I can really feel the excitement in the crowd and it's one of those things that really gets me excited about this picture. It's a small detail like that. It makes you just want to hear the crowd roar. I always tell my photographers to look for the picture behind the picture. They might have been shooting a picture of the cheerleaders, but that flag came across and it really framed up quite nicely."
Cheerleader director Stephanie Judah's comments:"When I look at that, I think of gameday in Arrowhead Stadium. The flag is moving, so we've scored and are celebrating. When we score a touchdown, our cheerleaders get to go out into the end zone and do a kick line, which is really special and unique for us. It's something that we're really proud of and we work really hard on. You look at this picture and you see all of the Chiefs fans in the background, and I think that's something that for a Chiefs cheerleader is probably one of the best things. They get to be a part of something that is so much bigger than them."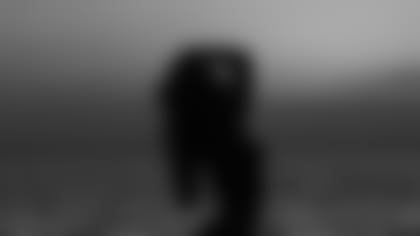 A Sillouhette in St. Lucia
Photographer comments: "I just kind of gave Summer some directions. 'Do something that's going to be really cool as a silhouette.' She started doing some posing and moving around and she kind of got to this spot with her elbow up above her head. It just looks like one of those iconic silhouettes that you could find on a postcard selling on vacation."
Cheerleader director Stephanie Judah's comments:"We literally shoot every second until every ounce of the sun is gone, so this is probably seconds before the sun is gone. It's such a special moment because the cheerleaders work very hard to be athletes and doing this calendar is an immense amount of work that they do to be in the best physical condition they can be. We have an army of hair and makeup and photographers, film production and security staff, then get help from the resort and the tourist board. When I see this photo, I just think of all the endless amounts of people that it takes to do just that photo. It's pretty cool and is a great feeling of accomplishment."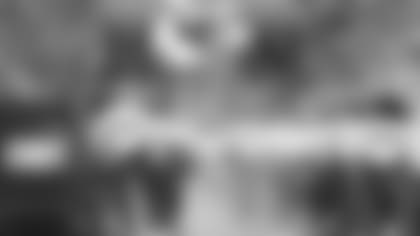 Model:Canon EOS-1D Mark IV
Photographer comments: "We didn't know the cheerleaders were going to be wearing the Berry shirts. When they did, we were kind of staging for the intro and were ready for the players to come out. But when the cheerleaders came out in that shirt, we knew it was very important to get that for the meaning of the day. The cheerleaders and the coaching staff and the fans—everyone was in support of Berry."
Cheerleader director Stephanie Judah's comments:"I remember when we found out these shirts were going to be available. It was interesting because my whole team instantly asked if they could wear it on the field in support of Eric. The Chiefs organization is a family. Whether it's a cheerleader, someone who works in the office, anybody that works for the Chiefs organization is all one family. If someone is going through something that is very challenging, you want to do anything you can to support it. I think for the girls, they wanted to wear that shirt to let everyone know they were there in support and it was really important to them. When I look at that, it was such a symbol of the definition of a team."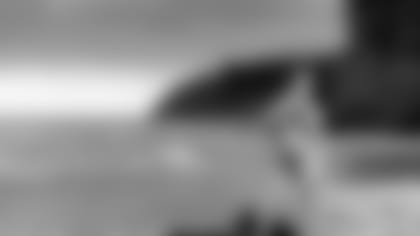 The Sweetest Spot in St. Lucia
Photographer comments: "This, I thought, was the coolest location that we went to in 2014. We were at this plantation and we went exploring. We walked through a cow pasture and down a path and ended up on a black-sand beach. As we kind of went exploring around the corner of the cliff, we found this little island almost that was out, maybe 20 yards off the beach. We were able to grab the gear and hike up to this point and put her on one end of it and me on the other and got the great scenery of the cliffs of St. Lucia with the sunset and the water was starting to get a little rough. We knew it was going to be a little treacherous."
Cheerleader director Stephanie Judah's comments:"Hannah is phenomenal. She's a pro at calendar shoots, and it's not easy doing what they do. None of them came on this team as professional models. They had to learn and to train to figure out how to do this, and Hannah is really good at that. But Hannah is also a phenomenal cheerleader. She is one of the fans' favorites because she is so good with them and full of life on the field. She's a great cheerleader. This is her third year, so she's still relatively new on our team. I also think if you asked Hannah about this picture she would probably talk about what it took to get to those rocks."