"Behind the Lens" is an article series onChiefs.com* that will highlight the top 10 photos from the 2015 archives every Wednesday over 10 weeks. *
Chiefs photographer Steve Sanders, who has been with the team for more than 20 seasons, provides the commentary.*
The Top 10 Chiefs Photos of 2015
*No. 4 – Branch Goes 73 Yards for the Score
---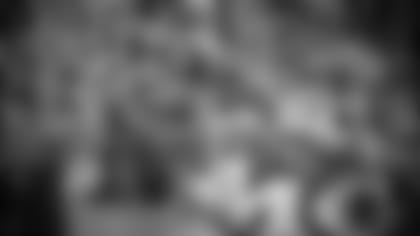 Steve Sanders comments: "The game was still close prior to this play, and Baltimore had been moving the ball. The running back went into a pile, and everybody stopped. Then all of a sudden you see Branch come around the corner and he has the ball, and he's on the move. He's coming right towards me, and as he goes by, I remembered we had a pretty good amount of Chiefs fans in the stadium that day.
"As he's getting ready to cross the line and score, you've got these Chiefs fans in the background. You've got this look of 'Oh no' on some of the band members that are in the seats, and you've just got Branch gliding in the end zone—just kind of selling it. You can't see his face, but you've got the ball, his name and the fans in the background, and I thought it made a really nice photo."
"Behind the Lens" is an article series on Chiefs.com that highlighted the top 10 photos of 2015 over the last 10 weeks.