"Behind the Lens" is an article series on***Chiefs.com**** that will highlight the top 10 photos from the 2016 archives every Tuesday over 10 weeks.*
*Chiefs photographer Steve Sanders, who has been with the team for more than 20 seasons, provides the commentary.*
The Top 10 Chiefs Photos of 2016
No. 2 –  The "High-Five" Runback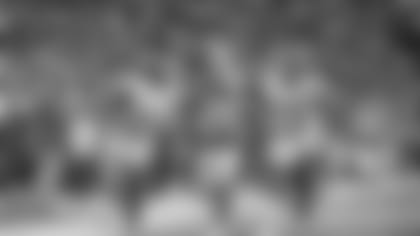 Chiefs 30, Broncos 27 (OT)
Date:November 27, 2016
Model:Canon EOS-1D X
Focal Length:140
Exposure Program:3
Taken By: Jim Berry
Sanders' comments: "There are so many photographers at a game, and you'll see big plays happen, and a lot of people get a picture from the game that is similar. I believe when this took place, Jim (Berry) was the only photographer in that end zone.
"For Tyreek (Hill) and De'Anthony (Thomas) to be running right at him, he's going to be one of the only people that have this angle, which I think is the best angle that anyone could of had of this shot. I know he's going to enter this in a contest, and I think it's going to do well because of the uniqueness of it—the high-five pre-touchdown celebration, the punter in the background just trailing. They blocked him out with their high-five. You just see his number running behind him, and it was such an exciting play that helped us to make that win late.
"Seeing the Broncos running after them puts context to it. You can tell that's the punter. You know it happened on a punt return. It just gives you the context of what kind of play it was even if you don't see the whole thing happening."