"Behind the Lens" is an article series onChiefs.com* that will highlight the top 10 photos from the 2016 archives every Tuesday over 10 weeks.*
*Chiefs photographer Steve Sanders, who has been with the team for more than 20 seasons, provides the commentary.*
The Top 10 Chiefs Photos of 2016
No. 4 – *A Leader's Lesson*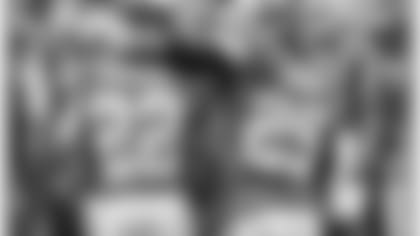 Date:November 6, 2016
Model:Canon EOS-1D Mark III
Focal Length:200
Exposure Program:2
Taken By: Keith Foglaini
Sanders' comments: "This is one of those photos that you're going to look at, and it makes you wonder what was going on. To put it in context, Marcus Peters had just kicked a ball into the stands and I think Eric (Berry) was coming over as the elder statesman to give a little advice as to how something like that could have really turned the game, and maybe control your emotion a little bit and he just wanted to give him a little advice—a little teammate love there.
"Keith (the photographer) was working that corner down there by the tunnel, and it's one of my favorite pictures from the year. I told Keith what a great shot it was and to look for it on social media, because that's something that is going to go out on Instagram probably."
On the black and white effect: "A lot of our days in the stadium, late in the day, you have mixed shadows and highlights, and as they roll into the highlights, the light's really flat, so by turning it black and white, you can just really increase the quality of the image."