"Behind the Lens" is an article series onChiefs.com* that will highlight the top 10 photos from the 2016 archives every Tuesday over 10 weeks.*
*Chiefs photographer Steve Sanders, who has been with the team for more than 20 seasons, provides the commentary.*
The Top 10 Chiefs Photos of 2016
No. 6 – Parker's Portrait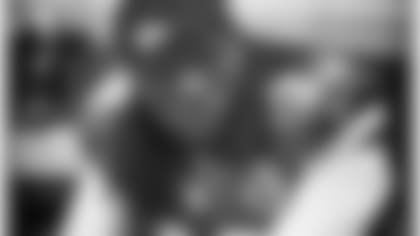 Date:Sunday, September 25, 2016
Model:Canon EOS-1D X
Focal Length:294
Exposure Program:1
Taken By: Steve Sanders
Sanders' comments: "This was an in-game portrait, so it was in the bench area, and I think Ron (Parker) might have known that I was around taking pictures. When I got in his straight line of view, he made great eye contact with the camera, and what I like about this is just the way that his eyes kind of look through me. I don't know what was going on behind me, but his eye contact was amazing.
"I made this black and white because I thought it would be a little bit more impactful. I thought the detail you could get out of his hair and off his skin would just be a little bit crisper and it would be more appealing to look at in black and white.
"I gave it a border because one of the things I've been doing this year with the style of the black and white has just been adding this burned-off edge to give the picture a little bit more of a traditional black and white feel instead of a digital black and white."