"Behind the Lens" is an article series onChiefs.com* that will highlight the top 10 photos from the 2016 archives every Tuesday over 10 weeks.*
*Chiefs photographer Steve Sanders, who has been with the team for more than 20 seasons, provides the commentary.*
The Top 10 Chiefs Photos of 2016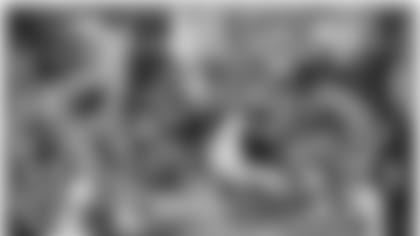 Date:December 4, 2016
Model:Canon EOS-1D X
Focal Length:28
Exposure Program:3
Taken By: Steve Sanders
Sanders' comments: "Post-game on wins, I typically go into the locker room and take pictures of the guys celebrating. Coach Reid always addresses the team post-game, so it really allows our viewers a chance to see a place where there are no TV cameras typically. Just team staff is in there and get to celebrate with the guys. Because these wins are all so precious, you get to see how excited they really are.
"You try to get coach's entrance because it's always a little dramatic, and you have Albert (Wilson), Tyreek (Hill), Charcandrick (West) and (Chris) Conley and they're all just kind of making a path, and they were waving the towel and they were doing everything to call coach into the room.
"[Coach Reid] has that big smile on his face, and he truly loves seeing these guys happy and letting everybody's personality in."