"Behind the Lens" is an article series onChiefs.com* that will highlight the top 10 photos from the 2016 archives every Tuesday over 10 weeks.*
*Chiefs photographer Steve Sanders, who has been with the team for more than 20 seasons, provides the commentary.*
The Top 10 Chiefs Photos of 2016
No. 8 – Sorensen Takes It Home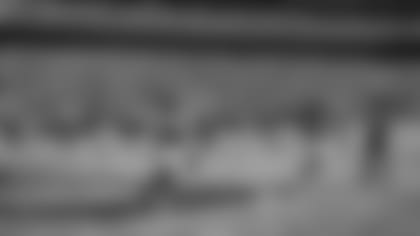 Date:October 23, 2016
Model:Canon EOS-1D X
Focal Length:50
Exposure time:1/4,000
Taken By: Steve Sanders
Sanders' comments: "This was roughly around a 50-yard pick-six, and it was a ball that was tipped from Eric Berry and [Dan Sorensen] ran across through the play and was able to navigate his way through the entire Saints offense to come back through, and I happened to be in the end zone watching the play and pulled out a wider lens, so you could get the whole Sea of Red behind him with the stadium and him coming through.
"You have the officials signaling touchdown, looking around to make sure there are no flags on the play. He just kind of ran past everybody, so the rest of his teammates are running in to congratulate him.
"I would have been on a long lens first—being in the end zone, the play was 40, 50 yards away, so I would have been tracking the ball and then it comes to a point where you have to decide to switch, and you can't switch too soon or the shot is too wide, so you just have to pick that time and figure out when it is that you're going to switch to your secondary bailout lens. You let one go and pick up the other one and hope for the best. That's what happened on this play—you put yourself hopefully in a place to succeed and you can't chase the picture, you got to let it come to you, and it did in this case."