A photograph can be a powerful thing.
It has the ability to capture the raw emotion of a singular moment – whether that be a game-winning touchdown or a fan experiencing their first trip to Arrowhead Stadium.
We're going to explore some of those moments from the 2018 season over the next 10 weeks, along with commentary from Chiefs' photographer Steve Sanders.
Sanders, who has been on the job for over 20 seasons, hand selected each of the photos we'll feature over the next two months as his personal favorites.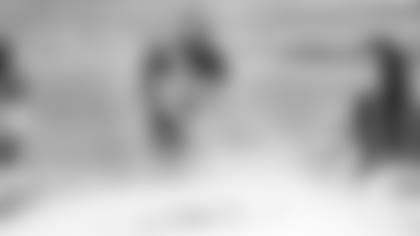 Chiefs vs. Jaguars at Arrowhead Stadium
The subject: Chiefs Ambassador and former center Tim Grunhard fired up the crowd prior the Chiefs' meeting with the Jacksonville Jaguars on Oct. 7 despite persistent rainfall.
Model: Canon EOS 7D Mark II
On why he included it in this collection: "I included the photo of Tim beating the drum because it's so visually entertaining. It was raining so hard while the pre-game events were taking place, and he's beating the drum and the water is bouncing off of it. It just has so much emotion going on with it – the way he's screaming and trying to fire up the crowd. You can see Rumble and the Cheerleaders taking in the feeling of the moment, too. Everybody is 100 percent in, rain or shine. They were ready to get us going. It was a big game at the time and it was going to be a big day. I just really like the emotion of the picture."
Check back next week for another one of Sanders' top moments from 2018.