"Behind the Lens" is an article series that aims to highlight the top photographs from the 2017 season as captured by Chiefs' photographer Steve Sanders and his staff.
We began to explore those photos in February and will finish the series with Sanders' favorite photo from the 2017 campaign.
But first, here's a look at what we've covered up to this point:
We'll complete the countdown with No. 1 -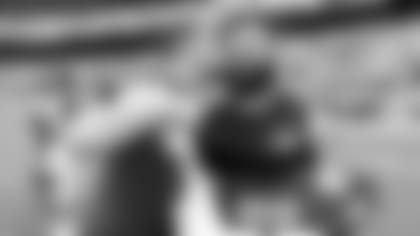 Date: Sunday, September 17, 2017
On why it's his favorite of the season:"This is going to be the picture that I enter for the NFL photography contest," Sanders said. "The thing I love about this is that Travis (Kelce's) brother has this priceless look on his face. He could not have his eyes closed any tighter and the grimace on his face just tells the story of, 'I love this guy, but I hate him right now.' He's not really thrilled about this situation. With them being brothers and both playing in the league, I think it's really cool that Jason (Kelce), being the older brother, had to give this one up to his younger brother."
On how the moment transpired:"They were down there for the jersey swap and then all of a sudden Travis looked at me, he looked at his brother and then he went in and gave him a big ole smooch on the cheek," Sanders explained. "Jason had nowhere to go and was just shocked by it. That look is just pure shock."