"Behind the Lens" is an article series that aims to highlight the top photographs from the 2017 season as captured by Chiefs' photographer Steve Sanders and his staff.
We began to explore those photos last week and will continue to do so over the next three months along with Sanders' commentary.
We'll continue with No. 11.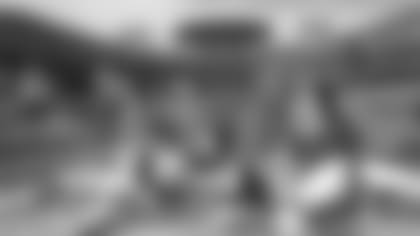 On how it happened:"This was one of the most fun photos we took all season," Sanders said. "We had just scored a touchdown and the guys ran through the end zone until they saw Jim Berry, one of our photographers. They posed right in front of him and it was kind of like a 'specialty guys family photo.' They all did something fun and they were all looking at the camera, which was cool because sometimes they're not in sync with the camera guy and are looking all over the place. In this case, they all found him specifically to do something fun with their celebration."
On the difficulty of capturing so many players at once:"The more people that you put into it, the harder it is, but it's a lot of fun when the guys are into it," Sanders said. "You get to celebrate a little bit of the action with the guys."