"Behind the Lens" is an article series that aims to highlight the top photographs from the 2017 season as captured by Chiefs' photographer Steve Sanders and his staff.
We began to explore those photos last month and will continue to do so throughout the offseason along with Sanders' commentary.
Here's a look at what we've covered so far.
We'll continue with No. 5 –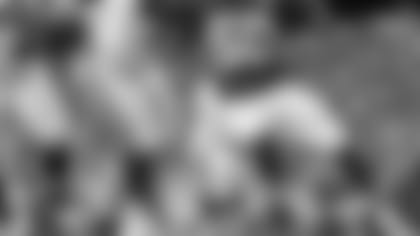 Date: Sunday, December 10, 2017
On why he likes it: "This was shot by Kevin Sabitus – he was my intern this year," Sanders said. "This was a great shot because it's shot from the ground - he's laying down and looking up at the action – and with Justin (Houston) coming around the edge, it's just really set up nicely. It makes him almost look monumental as he comes around the edge. You can see him getting double-teamed and he's flying right by it. Kevin was able to get some nice light reflecting back on Justin's face and it lights up under his helmet – that's always a trick when dealing with those shadows. There's just a lot of really good elements going on and I think it's one of our strongest images of the season. Sometimes it's hard to get your edge rushers until they make contact, because they're always engaged. To capture something like this kind of shows that Justin was winning that play."
On capturing the players' faces in this shot:"Being able to get that emotion inside the helmet is great," Sanders said. "This is the only sport where your face is really hidden and you're just known by your number. In baseball, you can see their faces and basketball is the same way, you always see those guys and they're so recognizable, but in football, they're kind of mysterious. When you're able to see their face and their eyes, that tells the whole story."