"Behind the Lens" is an article series that aims to highlight the top photographs from the 2017 season as captured by Chiefs' photographer Steve Sanders and his staff.
We began to explore those photos earlier this month and will continue to do so throughout the offseason along with Sanders' commentary.
Here's a look at what we've covered so far:
We'll continue with No. 9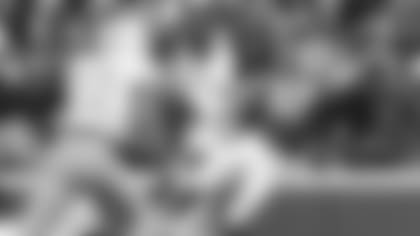 Date:Sunday,* *December 24, 2017
On why he likes it: "I know this didn't end up being a catch at the end of the day, but just at the point of the action, you don't know that. You don't know what happens next, and it makes yourself ask that question when you see the picture," Sanders said. "You see the two defenders and they're looking at it like, 'Oh man, he beat us. He's going to get this ball.' He has it wedged in one hand like that, he's fully extended and you can see he's getting ready to bring that other hand up there. He has perfect eye contact with the ball and you can anticipate that he's going to make this spectacular catch and it just leaves you wondering."
On the difficulty of the photo:"Whenever the guys jump, it sometimes gets tricky to capture their hands and the ball when it's above their head like that," Sanders said. "I was kneeling down throughout most of the game, so I was shooting up so that I had a little more headroom. It was a longer pass, so I had the opportunity to anticipate it a little bit more and you just hope that you do so correctly. It's one of our better pictures of the year even though it wasn't complete."