"Behind the Lens" is an article series that aims to highlight the top photographs from the 2017 season as captured by Chiefs' photographer Steve Sanders and his staff.
We began to explore those photos in February and will continue to do so throughout the offseason along with Sanders' commentary.
Here's a look at what we've covered so far.
We'll continue with No. 2 –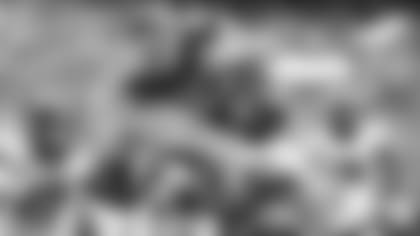 Date: Sunday, September 17, 2017
On the play itself: "When this happened – when he took off from the 5-yard line and 'Superman-ed' over everybody to the end zone - it was almost freakish," Sanders said. "You just don't see guys take off from there. That's a 15-foot long jump basically. He took off and just flew through the air. One of the things that I really like about it is that you can see (Eagles safety) Malcolm Jenkins and the reflection of the sky and the top of the stadium in his facemask. These guys are tall and Kelce is still two feet above them. He's 'Supermaning' through those guys and he's not going to be stopped. They have no idea what to do to stop him. I thought it was an amazing picture."
On capturing the emotion of everyone in the photo: "Everything just really worked out. Even the guys that are looking on in the background, their eyes are just focused on this guy flying through the air," Sanders said. "I think they were even amazed by the athleticism that this took. He just had that determination that he wasn't going to be stopped."