Once the ball was in his hands, the player made a quick jump-cut back to the inside to juke the oncoming defender before accelerating up field—displaying the kind of natural athletic ability that's often found on the field on Sunday afternoons in the fall.
It was the first day of practices at the Senior Bowl in Mobile, Alabama, where more than 100 NFL Draft prospects made their way down to the small Southern town for a week that will largely help determine whether or not they have a chance to live out their dreams of playing professional football.
These guys are the best of the best, and they're competing in front of the NFL's top decision-makers.
That's what Kansas City Chiefs' general manager Brett Veach, who has been making the yearly trip down to Mobile for more than a decade, said to begin the conversation with the area scout he called over to find out more about that particular player.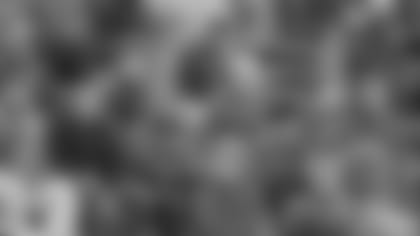 (Veach surrounded by staff members at 2018 Senior Bowl)
This was Veach's first Senior Bowl as Chiefs' general manager—a position he was named to last June. Veach knew some basics of the player but wanted to know some more.
At the time, Veach was sitting in the stands of Ladd-Peebles Stadium—site of the Senior Bowl practices and game—with just three other people. He was with one of his other top area scouts, plus a longtime friend who was in town for business of his own, and then the team's reporter.
The scout, who was about 30 feet away with the other contingent of the Chiefs' personnel department, came over and sat down and began filling in the group. He knew everything about the player—quickly rattling off his good games, his bad games, along with his general numbers and production throughout his career.
And while that might not seem all that difficult—considering there are those out there who pride themselves on being able to do similar things in memorizing players for the upcoming draft—the next part of the conversation is where scouts separate themselves from the rest of the football-watching world.
"Well, he looks the part," Veach said, albeit in his own words.
The scout then proceeded to dive deeper—explaining everything about the players' character, from what the coaches at his college said about him, to what some of the program's support staff had already said, along with several other personal details about the player that people don't come by all that easily.
It was everything but who all came to his birthday party, and even that wouldn't have been much of a stretch at this point.
The story all added up to one thing, and it's that kind of information that Veach and his staff will carry throughout the pre-draft process, which for this particular event—began with two practices a day for three straight days.
"My favorite part of the week is just being at practice," Veach explained of the Senior Bowl. "It's being together with your scouts and being able to talk a little smack with your guys. They get real territorial and prideful."
During the week, Veach would routinely take advantage of the territorialism of his area guys in a playful way—further highlighting the dynamic of a group whose trust amongst each other stretches far beyond just bringing forward the background knowledge of a player who was flashing on the field.
"The best part is finding guys you know they like and trying to pick holes in their game just to mess with them," Veach explained, laughing. "Just to see how defensive they get and how prideful they get."
This happened multiple times on Tuesday afternoon.
As soon as a player made a play, Veach would make a comment—often garnering a response or two from his staff, and in particular, the area scout who evaluated that player. It was all light-hearted stuff, and most of the guys were laughing through it all.
But it also worked both ways. Veach had a particular player he liked—often commenting after every single one of his reps during the week—good or bad (although he'd probably tell you there weren't any bad reps), and his staff began to poke their own holes in the players' game.
And Veach didn't back down. He dug in. He was outwardly praising the player with everyone engaged and laughing through it all.
"You have to have fun with what you're doing," Mike Borgonzi, the Chiefs' Director of Player Personnel who has been with the Chiefs for almost a decade, explained. "We have a great staff. Everyone has their own personality. It's almost like having a team. You have to have the right mix of personalities in your scouting department."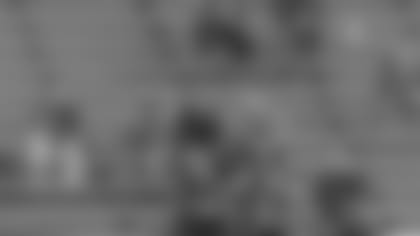 All the joking ultimately shows the bigger deal here, and that's the dynamic within the personnel department. They were all comfortable together. They joked with each other. It was football guys in a football environment doing what they do.
And they all speak the same language.
"I think it's different if you're a new GM with a new scouting staff," Veach explained of how well his group gets along. "You have to set expectations and all the rules. We've been doing this together a long time. We know what we're looking for and what we need. We know our roster and where our deficiencies are, and we know where we need to get better. We know what we're looking for in the locker room and the community.
"We have a shared vision."
Veach has been with the Chiefs for five years and was with head coach Andy Reid for six years with the Philadelphia Eagles before that. He's one of the youngest GMs in the league and has demonstrated throughout his time that he has an eye for talent. He was promoted last June from the position of Co-Director of Player Personnel—a position he had held since 2015.
"He hit the ground running," Borgonzi explained of Veach, who he has worked with for the past five years. "The one good thing with Brett and myself being here in the office with the roles that we had before (co-directors of player personnel), is that we were exposed to everything. I give John [Dorsey] a lot of credit for allowing us to do that. We were in free agent meetings, draft meetings, medical meetings, and trade discussions, so we were exposed to every moving part of the organization for the past few years."
The exposure to all of those levels and aspects of building a roster isn't necessarily always the case across the league. Some organizations have their guys stay within a specific area.
"There has always been a mutual respect between us, and that was the same when I was my old position," Veach explained of his staff. "That trust has just carried over. I'm not going to act a certain way or do certain things a different way in regards to how I act or how I treat them because I have the upmost respect for them, and I believe in them unequivocally.
"Now, there are certain things I have to be as a leader now. You have to be a little bit more firm and direct with deadlines and cutoffs, but as far as just my everyday demeanor on how I approach the guys and coaches—it's been very consistent."
Midway through practice on Wednesday, Veach was talking with one of his scouts about a defensive player who had turned some heads but that he hadn't yet seen play. After a couple of quick questions and follow-ups, Veach was sold and stated that he's going to his Pro Day.
Just like that, Veach decided to dedicate most of an entire day during a critical pre-draft time to travel to an event to watch a player he hadn't yet seen—all because he trusted his scout who watched the player.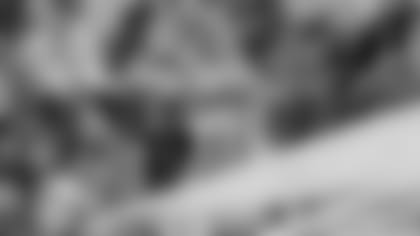 In the past, Veach wouldn't have missed seeing every player perform at the Senior Bowl.
"It's different because in the past you were able just to come in and watch practice, watch the tape, and talk to the players and your peers," Veach explained. "You could be totally in tune with everything—character, skill set, and projection. Whereas now (as general manager), it's hard when you come out to practice because you get distracted to talking to some other general managers, coaches, and agents.
"You're limited regarding just being able to totally invest yourself in all the practices, and all the one-on-one interaction with players. You have to spread yourself out more, but that's the beauty of having a great staff. I've been with these guys for five years. I trust them, and we all speak the same language, so if I miss a one-on-one or a nine-on-seven period, I know I can come back in the group and ask a couple of specific questions and get back up to speed quickly. That's the advantage of just knowing your crew and trusting them."
Trust can be a word that's thrown around often and sometimes can be diluted, but it was never more present for Veach than following the first practice on Thursday afternoon.
It was his final get together with his staff.
The whole group, which had been sitting together, retreated to the top of the stands—away from everyone they could. This was the stuff they didn't want anyone to hear.
Each scout was given a different positional group to watch during the week, and it was their job to rank all the players—one through however many guys that were there in that particular group.
Now, this isn't an end-all-be-all ranking, but it's a part of the overall evaluation of these players that are used as they approach the draft, and since Veach can't watch everyone on his own, this was an obvious and important form of trust.
The scouts took turns—listing off the players in their particular group. They started with the quarterbacks, then moved to the tight ends, then offensive line and so on.
In addition to the numerical ranking, each scout had an "above the line," and a "below the line" cutoff on their list, which meant "guys they'd draft," and "guys they wouldn't draft."
This has nothing to do with current positional needs, contract situations, or even the round the player would be selected; it was simply whether or not the scout felt the player was good enough to join the Chiefs.
At the end of this meeting, Veach reiterated to all of his scouts the importance of doing background work—character checks, and to add anything—however small it might seem—to their database on any player that they come across moving forward.
"We've gone through this process a lot," Borgonzi added of the area scouts. "So, we have full trust in their opinions of the player and their evaluation of the player, and we have trust in them knowing who the person is because they know the person better than us. We can interview this guy at the Senior Bowl or Scouting Combine, but they've been following some of these guys for three or four years—talking to their college coaches, their high school coaches, and their friends.
"This is where the trust comes into account."
Veach also told them to start thinking about the 60 formal interviews that they're allowed at the Combine. He added that it's early, but it's important to "get those conversations started" as to which players they might want to sit down and speak with in Indianapolis during the first week in March.
During the week, Veach spent most of his time at practice bouncing around from meeting to meeting in the stands. Whether it was an agent or even a fellow general manager, Veach was rarely not in the midst of a conversation with someone.
Whenever there was a break, which always seemed short-lived, Veach even had free agent players coming up to him asking him to try out for the team. One such player even went as far as interrupting Veach's meeting with his staff that Thursday as they were going through their final rankings at the top of the stands. The player said he had his workout clothes in the car. He'd do it right then.
Veach handled it well, saying there's a time and place for that and they quickly exchanged information after the meeting was over.
After each practice, things didn't slow down for Veach. If anything, they picked up.
"The most challenging thing is you come in with a practice schedule and a film schedule knowing in the back of your mind that on certain days you have certain meetings," Veach explained of his week. "But you will have unexpected meetings and get-togethers that pop up literally before you're about to watch a practice or have a film session. So all the sudden you're sitting there on Tuesday, and you know you have practice from 12-3, and then dinner or a meeting with an agent at 6:30. By the time I get to my hotel at 3:30 or 4, I'll have a text for another meeting, and that'll go from 4-5, and then I'm going back up to my room to watch a little tape, and then I have another text, 'Hey, we need to get together.'
"Then all the sudden you're just barely making your dinner because you had three unplanned meetings before that."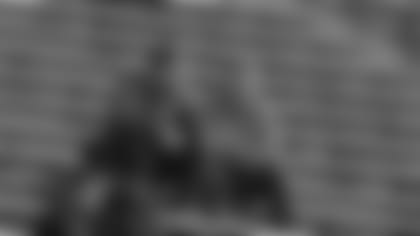 "He goes from 6:30 in the morning until 2 in the morning, so it's been a wild ride for him," Chiefs' coach Andy Reid explained of Veach's week in Mobile. "I have high expectations for him because I've known him for so long, but I think the people around him are getting used to the energy level."
He doesn't slow down. He doesn't go out and socialize—like many do while in Mobile. He just works. It's who he is.
And even with the constant movement and needing to be flexible with his schedule, Veach is already ahead of the game in knowing how everything all comes together—despite the 20-hour work days.
"It's making sure you give these agents and representatives and these coaching staffs the respect they deserve because we're all busting our tail, right?" Veach explained. "So, you have to understand that it may not be convenient for you, but at the same time we have a job to do, and they have a job to do, and you respect their grind and their hustle coming down here. To blow people off is not how you to want to treat people because whatever goes around comes around, you have to be committed to being flexible."
And maybe even more importantly, Veach finds value in having these conversations in person.
"To me, there's a lot of value in having conversations with people over certain topics face-to-face," Veach explained. "You can have it on the phone, but you can have much more honest, direct, open in regards to transparency, dialogue with a face to face conversation and cut out all the BS.
"I feel the authenticity of the conversation is much more meaningful in person than over the phone."
There's not a lot that's not authentic about how Veach handles his staff.
To open up that meeting on Thursday afternoon, Veach confirmed with his staff on the upcoming work schedules, asked a few questions, and set it up for anyone to provide feedback about anything to come from the week. He then explained how they're going to make some minor changes to how they set up their draft boards—explaining the what and why to his staff of the thought-process behind the move-later explaining it could save a couple of minutes per player, and "that time adds up," he'd note.
Veach was collaborative, yet still leading and being direct—a tricky balance that can be easily seen through if not truly authentic, and every bit of it was his same personality.
"I think that's been the beauty of this deal here where the transition has been so smooth because I respect and trust those guys, and I feel that they respect and trust me."
It's that trust and dynamic that showed itself in Mobile last week that will serve them all well moving forward.