When the Kansas City Chiefs made the announcement that Brad Childress and Matt Nagy were going to be Co-Offensive Coordinators moving forward with Doug Pederson taking the head coaching position with the Philadelphia Eagles, the natural question was "How is this going to work?"
There are two guys stepping into split a position previously held by just one person.
Childress' title had previously been spread game analyst and special projects, while Nagy was the quarterbacks coach, and both men had been with head coach Andy Reid in Kansas City for the past three seasons.
Reid, who said he's "fired up" about these moves, spoke about some of the changes.
"We'll keep Brad [Childress] in the box and then Matt [Nagy] will go ahead and come down on the field and he'll do the coach-to-quarterback headset," Reid explained. "As far as the duties go, we'll just see how all that plays out. Right now, they're just splitting them up and we're working through that.
"There's plenty there to work with."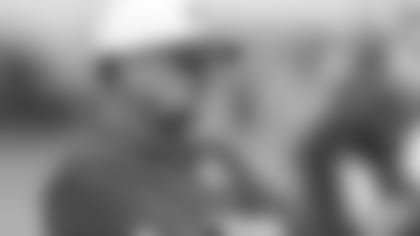 Childress had been with Reid for seven seasons in Philadelphia (1999-2005), while Nagy had been with Reid as a coaching assistant in 2010 before being promoted to quality control coach (2011-12) for their final two years together in Philly.
But Childress and Reid go back further than their time together in Philadelphia, as they were on the staff back at Northern Arizona in 1986—Childress was the offensive coordinator and Reid was the offensive line coach.
"We've seen each other through highs and lows," Childress explained of his relationship with Reid. "The lows of getting fired, the highs of getting jobs. Our families were close. Then he moved away and his family grew. I ended up with four children before I left NAU. He had five by time he got to Missouri (just three years later)."
Reid spent just one season at Northern Arizona before he was called by Dirk Koetter (the new head coach of the Tampa Bay Buccaneers), who at the time was at the University of Texas El-Paso but had spent a year with Reid back in 1985 at San Francisco State.
"That's kind of a neat part; the families—Tammy [Reid] and Drew [Childress] were able to stay close," Childress explained of how they stayed in touch throughout the years. "The kids are similar in age. He has a daughter Drew; my wife's name is Drew. I mean, lots of similarities."
Both Reid and Childress also have sons involved with the team as Britt Reid is the assistant defensive line coach while Kyle Childress is Reid's assistant.
As Childress and Reid's paths wouldn't come together after NAU until Reid hired him when he took the head coaching job with the Eagles in 1999, that doesn't mean they weren't close.
When Reid joined the Green Bay Packers in 1992 after a three-year stint at Missouri (1989-91), Childress was right down the road at the University of Wisconsin, where he worked as the quarterbacks coach and offensive coordinator from 1992-98.
Every Memorial Day, they would get the families together, eat some brats and hit whiffle balls at the Don Hutson center in Green Bay—the indoor practice facility for the Packers.
The relationships between Reid and his assistants often go back further than a few years and often beyond the field, although one exception is Nagy, the young up-and-comer who has made a name for himself tutoring quarterback Alex Smith through the best two years of his career.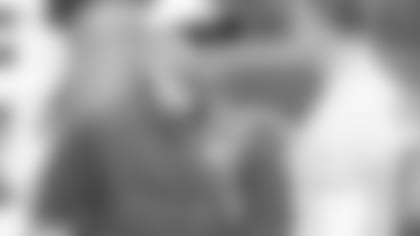 Nagy, a former college quarterback at the University of Delaware, joined Reid in Philadelphia with some networking from a former college teammate.
"Brett Veach (current Co-Director of Player Personnel for the Chiefs) was my college teammate at the University of Delaware," Nagy explained. "At the time, he was a coaching assistant for Coach Reid in Philadelphia. I was playing Arena Football and Brett and I had a good relationship, and he just thought it would be a good opportunity for me to experience the NFL level as a coach.
"That was what was important to me at the time and it just kind of went from there."
Obviously impressed by what Nagy has brought to the table, Reid now gave him a coordinator title just six years into his NFL coaching career.
"Matt's got a nice feel for the game," Reid noted. "He was a player, obviously, in the Arena League. And then we brought him on board – some guys have a knack for it and he's one of those guys."
After just six years, Nagy has earned this title but it's not something he necessarily planned.
"You never put a timeline on yourself as of when things will happen," Nagy noted, "but now as I look back and see things, I just feel very fortunate that I've had a great six years with Coach and really being able to learn from him and help make me a better coach."
Considering this will be Nagy's first coordinating experience, he feels confident in his ability to take what he's learned from Pederson and use that moving forward.
"I've been able to witness that and kind of learn from [Pederson] and see how he does it," he explained. "I think the transition is going to be really smooth. Coach [Reid] obviously will do a great job at leading us in regards to how to do it and how it's going to go. Being in here with Alex [Smith] and the rest of the quarterbacks for three years is a huge advantage and I think it's going to be a really good thing."
Nagy said he hasn't spoken with Smith yet on the changes, although that could happen soon.
"I haven't had the chance to talk to Alex [Smith] yet, I'll end up getting in contact with him soon. He's probably sick of hearing my voice for the past six months, so I'll at least give him a week off."