Another Friday practice is in the books for the Kansas City Chiefs, their final workout of the week. On Saturday, the team will have a walkthrough, followed by Sunday's game against the New York Giants.
From the very beginning of the practice week, Chiefs head coach Andy Reid, his staff and the players have thrown their 3-0 record, as well as the Giants 0-3 record 'out the window', not wasting time looking at box scores, standings or stats, all week.
"I really haven't looked at that," coach Reid said Friday. "That's not how I go about business. You're so busy trying to prepare your own squad that you don't put a lot of time there; plus, you know there's so much parity in this league than anything, that if you're not right, anything can sway real quickly and can go the opposite way. We just come in and we focus in on the team and make sure we study them and then we get ourselves right; that's how we go about business. I don't get caught up in records."
Just like their leader, the Chiefs players have spent this week preparing on the practice fields and in the classroom, rather than prognosticating about team records, division standings and overall statistics.
"Their record doesn't mean they're not a good team," Chiefs LB Akeem Jordan said. "They have explosive players. They're still a good team, with a lot of weapons and a really good quarterback. They won two Super Bowls; they just know how to win.""
Playing in front of Jordan, on the Chiefs defensive line is DT Dontari Poe, who enters Sunday's game with nine tackles, one assist, 3.5 sacks and two pass breakups.
"It doesn't matter what their record is," Poe said. "They're coming out here and playing hard. They're trying to get their season turned in the right direction; so, that starts with one game. We just have to come out there and play the best we can."
Coach Reid said his team had a good week of practice, including its offense, which continues to receive attention for the efficient, mistake-free football, led by QB Alex Smith, who summarized the locker room vibe this week.
"Anytime you're winning, it's a good feeling," Smith said. "But, I think we all know it's three weeks into the season. It's no time to get carried away with anything. There's so much season left. For us, the goal is to continue to take steps every single week and continue to improve."
Protecting Smith's blindside on Sunday will be Chiefs LT Branden Albert, who described his team's competition this week.
"They're a hungry team," Albert said. "There are guys on there that have been to the Super Bowl and won some good games. We know what kind of game it's going to be. We're not going to say just because we're 3-0 and they're 0-3 that they're going to lay down; it's going to be a tough game. We have to bring our 'A' game."
Being one of the team's leaders, Albert shared some of his teaching tactics.
"I'm kind of a quiet leader," Albert said. "I really don't say too much, unless it needs to be said. I try to lead by example, as best I can. I try to work every day and I have great coaching. Coach Andy Heck and coach Eugene Chung coach me every day."
With the protection that "BA" and the rest of the Chiefs offensive line provides Alex Smith, the more time he'll have to make the best possible reads for chain-moving production.
Chiefs WR Junior Hemingway talked about the trust the receivers have in their mobile and accurate QB.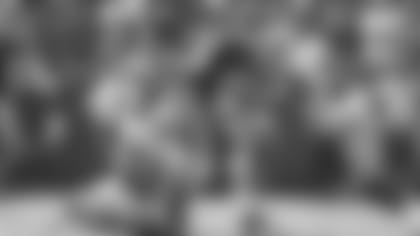 "Alex is going to keep plays alive," Hemingway said. "I feel that as a quarterback, that's a good thing. With him being able to keep plays alive, that allows us to move with him, either to the left, the right or wherever he goes. We're working really well together. We have a strong and great confidence in Alex. I feel that, through practice and games, he's going to put us in the right situation and give us a chance to win."
Chiefs fans are hoping for that win on Sunday, which would close out the team's September schedule in impressive fashion.