It was around one o'clock when lifelong Chiefs' fan Roger McCush entered the Zoom call. Joined by his wife, two brothers and his sister-in-law, McCush was under the impression that this was a virtual meet and greet with franchise legend Christian Okoye provided to a handful of lucky fans. Clad in red from head-to-toe, the group was dressed the part.
But unbeknownst to McCush, this call – announcing him as the Chiefs' 2020 "NFL Fan of the Year" nominee – was the only one they'd be making.
The first to speak was Dalton Blackwell, a Group Sales Representative with the Chiefs, as the call got underway.
"Hey Roger, thanks for joining us," Blackwell said before greeting the rest of McCush's family.
Blackwell has never met McCush met face-to-face, but thanks to their frequent phone calls about tickets, football and life in general, he knows McCush as well as anyone. In fact, it was a call last November that helped lead to this moment.
"It was around this time last year that we beat the Vikings at home, and I figured you were just calling me to talk about the game," Blackwell said. "That's when you told me that it was going to be your last game of the year."
McCush had recently been diagnosed with Manual Cell Non-Hodgkin's Leukemia and his treatment plan meant an early end to witnessing what turned out to be a championship season in-person. It was simply devastating for McCush and his family – Season Ticket Members for 15 years and some of the biggest fans you'll ever meet – but less than a calendar year later, McCush is cancer free.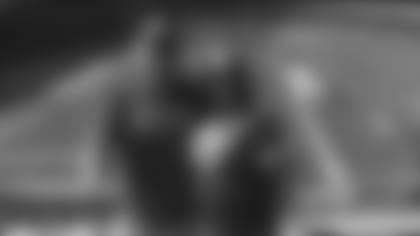 It's a result that shouldn't surprise anyone who knows McCush – a retiree who now spends his time as a physical education teacher for special needs youth – but Blackwell and the Chiefs felt like McCush's victory over cancer called for some more good news.
"After hearing what Dalton had to share, you're clearly an extraordinary fan, Roger," Okoye chimed in. "You're a positive influence for your friends and family. Your fandom, your connection to the game and your story are an inspiration."
McCush and his family listened intently on the other side of the screen, still unaware of what was to come.
"It's for those reasons," Okoye continued. "That we are proud to select Roger to be our NFL Fan of the Year nominee."
Shock quickly transformed into elation, as McCush's family erupted in applause around Rogers' truly stunned expression. After twelve months of fighting for his life, joy was manifesting itself through tears.
"I'm proud to be one," McCush said with a smile. "I'm proud to represent the Chiefs."
The NFL created the "Fan of the Year" program in order to recognize the passion and constant support of football fans throughout the country. As part of his nomination, McCush will participate in weekly virtual panels - alongside nominees from the other 31 teams – with league executives and former players.
McCush also received a box full of team memorabilia to commemorate his nomination, and if he makes the final round of the "Fan of the Year" contest, the greatest gift is yet to come. The top three fans will receive tickets to Super Bowl LV, where the individual deemed the national "Fan of the Year" will be announced at the game.
The contest will be sorted out in the weeks to come, but as far as Chiefs Kingdom is concerned, McCush is our winner.
"You deserve this, Roger," Blackwell said during the final moments of the call. "I feel like I've been pretty in-tune with your journey, and I know the Chiefs are a big part of your life, so we're proud to have you representing us."
McCush was largely at a loss for words, but he managed to encapsulate his thoughts before the call came to a close.
"I'm just so proud to represent the Kingdom, and it's so special to find out with my family here with me."