They vary from gold to purple and every color in between, each ready to whirl through the air as the Kansas City Chiefs take the field against the Denver Broncos on Sunday afternoon.
These vibrant pieces of sequined cloth – essentially rally towels - will be wielded by the Chiefs Cheerleaders on the sidelines at Arrowhead throughout the contest, and while they'll vary from the customary red game-day towel typically used by the Cheerleaders, what they individually represent has been close to each respective member of the squad for years.
They symbolize understanding, pain, joy and loss, but more than anything, these towels represent hope.
It's all part of the "My Cause, My Cleats" initiative, which encourages players to sport specialized footwear designed to bring attention to charitable efforts or causes important to them. The Chiefs participated during last week's matchup against New England, and for the very first time, the Cheerleaders are set to get involved this year during Sunday's game against Denver.
It represents an opportunity for the Cheerleaders to shine light on a wide variety of causes - from childhood cancer to mental health awareness – that have shaped who they are as individuals.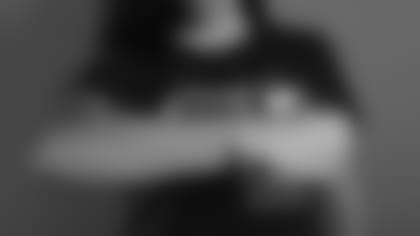 That's certainly the case for Kelsey, whose cause – the National MPS Society – and career as a Speech Language Pathologist has its roots in her relationship with a young boy named Jackson.
"I met Jackson when he was five-years-old, and at the time, he was playing normally. He loved soccer and singing – especially Ozzy Osborne," Kelsey said. "It wasn't until I received a letter from his mom that I learned that he had a disease called Sanfilippo syndrome, or mucopolysaccharidosis (MPS) type III."
MPS is a degenerative disease that affects one in every 70,000 newborns. It's a particularly wicked condition in nature, as it allows kids to develop normally at first before preventing the maturation of certain skills during childhood.
"Over the course of his short life, his ability to do most daily activities is diminished," Kelsey explained. "He's 11 now, and he can no longer run or jump. He doesn't talk very much, and if he does, it's about communicating immediate needs rather than words. Chewing and swallowing has become difficult."
It's heart-breaking, and for Kelsey, it was cause for action.
"I always wanted to be a Special Education teacher, but after meeting Jackson - who was just so full of life – and learning about how this disease process would affect him, I became more specific about what I wanted to do," Kelsey said. "I became a speech and language pathologist so that I could help people who had a difficult time communicating, chewing or swallowing. He's the reason that I pursued the career that I'm in now, and it means the world to me to have this platform and raise awareness for families like Jackson's."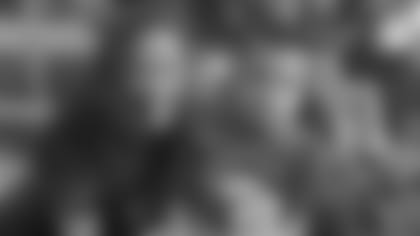 Kelsey's teammate, Aly, has a similar connection to a condition called DIPG, a cancerous, inoperable brain tumor that affects a young girl named Whitney. Aly has known Whitney – who she describes as "a spunky 10-year-old with a heart of gold" – for years, first as her babysitter and later as essentially a sister as their families grew close.
There's no cure for DIPG, but despite her young age, it doesn't hinder Whitney's spirit or joy for life.
"I've always admired how Whitney carries herself. When we're out in public, she doesn't care what anybody else thinks. She just does and says whatever she wants," Aly said. "She's lost the ability to run, write with her right hand, play and dance, but she's a fighter and she's had that personality since she was born. I believe in miracles and that helps us get through."
And she's not alone. In fact, after giving Chiefs' quarterback Patrick Mahomes a wristband bearing her name up at training camp, Whitney noticed months later that the reigning league MVP was still wearing it following a game.
"They saw that he was wearing it at a press conference, which was so cool for me because it felt like my worlds were connecting. I already thought highly of him, but it connected to me on a whole different level because I realized that he really cared," Aly said. "It spoke volumes to his character, and it made my heart explode because I love her so much."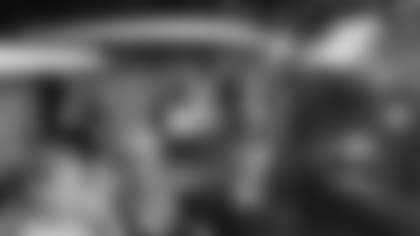 Aly will be representing Whitney on the field this weekend alongside Mahomes while another Cheerleader, Meggie, stands for a different cause close to her family that became a part of her life hours before her first game on the squad.
"The night before my first game in 2016, my family got the call you never want to get. My brother, Rick, was involved in a boating accident and had suffered a traumatic brain injury," Meggie said. "He's the biggest Chiefs' fan ever. He's the one who lives and dies with every game. He dressed up as KC Wolf for Halloween. He's all-out, 100 percent, and he was probably more excited than I was when I made the team."
A special day suddenly became tragic, but Meggie drew strength through her brother's love of the Chiefs during her first game as a Cheerleader.
"That day has shaped my journey on the team. My mom had never missed a game that I was cheering – from high school through college – and my brother had season tickets. He was so excited to go. I didn't know what to do other than just keep getting ready for the game, and my family told me that he'd want me to go," Meggie recalled. "I stopped and saw him on the way, but it was just a surreal experience. I don't remember much about the day or the game, I just remember walking down the tunnel and stepping onto the field for the first time and feeling that he was out there with me."
Rick has since recovered from initially serious limitations, which included losing his ability to speak or feel the right side of his body, but he still lives with realities stemming from the accident to this very day.
"He just got married and he's doing so well, but I want to use this as reminder that he still lives with symptoms," Meggie said. "That's the biggest thing about awareness - they may not look like they're suffering, but they still deal with pain and symptoms. If you didn't know, you probably wouldn't notice, but he'll never be exactly how he was before the injury, and you don't realize what people who have suffered a traumatic brain injury go through. It's a battle to heal your brain and re-learn things as an adult, so it's important to me to bring awareness to that."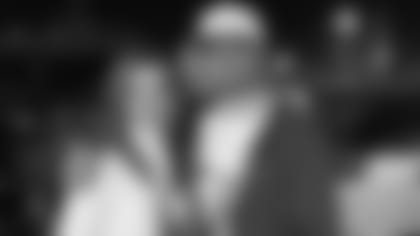 Teammates Cooper and Joi, meanwhile, are both advocating for mental health awareness on Sunday.
"I have my own story with mental health – anxiety and depression – that I've experienced personally, and when I started getting involved with pageants my senior year of college, I needed to pick a platform," Cooper said. "I asked a friend of mine who had served as Miss Kansas how I should go about doing that, and she asked me to find something that made me angry. From there, I really found that my passion stuck with mental health."
Cooper took that platform and ran with it, eventually reaching far beyond just pageants. In fact, she actually started what's essentially her own grassroots non-profit – the Exhale Project – making bracelets bearing meaningful words for anyone who wants one.
"The idea is you wear it as long as you need," Cooper said. "We've made around 1,500 bracelets and they've been all over the country. We even sent some to Canada."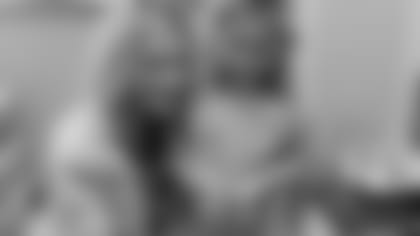 The bracelets have impacted countless lives, providing strength and encouragement to those battling a wide array of conditions beyond just mental health.
"It's so cool to hear everyone's stories. It makes people really open and share, and that was the whole goal," Cooper said. "It's about starting a conversation so that you don't feel alone."
Joi echoed a similar sentiment when explaining her own experiences with mental health.
"My dad was diagnosed with PTSD when he retired from the military, and prior to that, my family has also dealt with personality disorders and depression going back to my great-grandparents," Joi said. "For me, veterans just have a special place in my heart and a lot of them deal with mental health issues. So often though, we don't talk about these things."
Both Joi and Cooper will have a chance to start that conversation with their rally towels on Sunday, utilizing their platform on the brightest of stages to discuss something most so often hide.
"People don't always think it's OK to ask for help," Joi said. "Even the strongest of our nation's heroes need help sometimes, and it's important to me that we start a dialogue on it."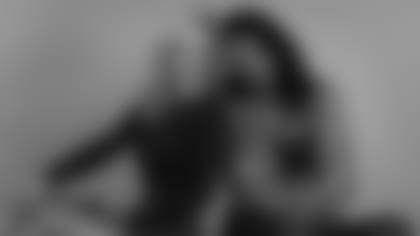 Each piece of cloth represents something different, from Kelsey's advocacy for the National MPS Society to Joi and Cooper's desire to conquer the taboo nature of discussing mental health.
Their rally towels symbolize understanding, pain, joy and loss, but more than anything, these towels – and the Cheerleaders wielding them - represent hope.