This is another in a series of season-long columns on the Kansas City Chiefs search for a franchise quarterback. It will appear weekly on Thursdays throughout the 2015 season.
---
Memories of Mike Livingston as the savior of the 1969 season persist among long-time Chiefs fans to this day, but very little is spoken of what happened to him after the Super Bowl and following Len Dawson's retirement.  Livingston went on to play another nine years in Kansas City, four of them as the Chiefs starting quarterback before departing after the 1979 season.
Applying the "stockpiling" concept once more, Stram and the Chiefs drafted Livingston as a potential backup to Dawson and Jackie Lee.  Lee had come over in a trade for Pete Beathard and had been the backup to George Blanda on Houston's first two AFL championship teams of 1960 and 1961.  HIs role in KC then would be no different than it had been in Houston. As long as Dawson retained his skill and command of the position - and there was evidence that he would seeing that he was at the peak of his powers in 1967 — Lee's chances would be no better than Beathard's had been.  To look at Lee as anything more than Dawson's backup would be an error.
But what of Livingston, out of SMU, who the Chiefs had drafted in the second round of the 1968 draft?  Was there an opportunity for him to be something more, and was it Stram and company's intent that he be the team's future quarterback?
Len Dawson by the start of the 1969 season was 34 years of age.  He had been in pro football now for 12 years. And, as could be expected of an aging player, he was becoming susceptible to injury and beginning to miss time.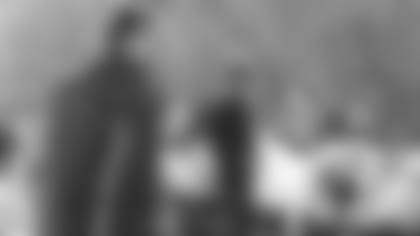 Dawson became susceptible to injury as he aged
Looking back from our vantage point today, it would be easy to come to the conclusion that Livingston was the quarterback of the future, or that might surely be the franchise's plan for him, or certainly would have appeared in a news report should the issue have played out in today's media. Given Lee's age and background, having been in the AFL since 1960, it was clearly not going to be his job one day.
There was a certain irony to all this.  Dawson had admitted early on in his first year in the AFL that both Buddy Parker and Paul Brown, his NFL head coaches in Pittsburgh and Cleveland, had a "one quarterback" mentality and that he never received much of a chance.  Now, he would play for a coach who felt much the same way about the position and the man holding it.
Whether Livingston felt the same way is not known. But the truth is that his success in 1969 filling in for Dawson was much less than optimists supposed then and romantics have imagined since.  It can be laid in equal measure at the feet of the Chiefs superior offensive line and one of the most dominant defenses in pro football history. If plays did break down, he was a decent scrambler particularly compared to Dawson who given his age and knee surgery could never be compared to a latter day Russell Wilson.
As years passed and injuries continued to mount up for Dawson, Livingston was thrown into the mix even more making as many as 140 pass attempts in 1973, 1974 and 1975.  But his signature moment as a Chiefs quarterback would remain that five-week span back in 1969.  When he finally assumed the role of full-time starter in 1976 he was already 31 years old.  To say he was a franchise quarterback-in-waiting, an Aaron Rogers if you will, would be a gross overstatement since he had played enough by now for most people to know.
Chris Burford believed it was always Stram's intent to have someone ready when the day came that Dawson was finished, but that it was difficult to step away when the team still ranked among the best in the NFL into the 1970s.  When the end came for Dawson, Livingston was there and so assumed the role, maybe with thoughts back to that run of success in 1969 or because he had been in and out of the lineup much of the time filling in for Dawson.
Still, the years following 1969 were what was ahead, and there were now other concerns brought about by the merger between the two leagues.
The common draft made it more difficult to "stockpile" quarterbacks. The truth was the  Chiefs were aging everywhere and the players pegged to replace old stars were not their equal as time would tell.
Dawson was one of those stars, a Super Bowl MVP, but the end was coming somewhere down a not too distant road.
Dawson and family honored at his retirement
When it did come and Livingston inherited the position he could have never expected that he would play for three head coaches the remainder of his time in Kansas City. His best season came in 1976 when he completed 56 percent of his passes for 2,682 yards and 12 touchdowns to rank among the league's top five quarterbacks. He averaged 7.9 yards per attempt, just behind league-leader Terry Bradshaw's 8.04. But by the time he reached his last year as a Chiefs player, the teams he had led the prior four seasons had combined for a desolate 16-42 record.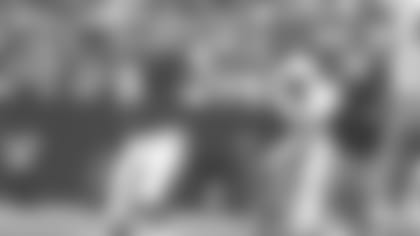 Livingston's best season as a QB was 1976
Part of the reason for Livingston's fall-off in production was head coach Marv Levy's move to a run-oriented Wing-T offense.
In the Wing-T, a single wingback lines up outside the receiver and one yard off the line.  With a fullback lined up four yards behind the quarterback and a halfback beside him on the weak side, the formation lends itself to inside runs and shifty quarterback options.  Levy had turned to this antiquated offense in order to hold onto the ball and protect the team's porous defense.
Running the Wing-T, Livingston's overall passing yards per catch and touchdowns dropped noticeably in 1978 and were well down from three years prior. The Chiefs posted franchise records with 663 rushing attempts and 2,986 ground yards that year. Running it limited the quarterback's throws as did the lack of quality receivers to catch balls thrown to them.
Going into his last season, Livingston ranked 13th in the AFC among passers and there were only 13 teams in the conference. He had thrown the ball only 290 times. By contrast, Seattle's Jim Zorn had thrown it 443 times, Oakland's Ken Stabler 408 times and Dan Fouts in San Diego 381 times. A trio of Denver quarterbacks had thrown it 391 times.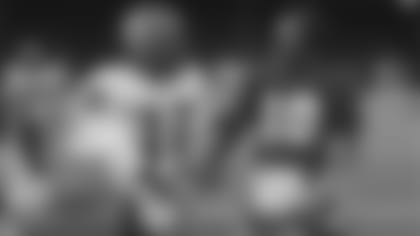 Levy's offense took a toll on Livingston's passing stats
Despite one of the worst defenses in the league - Levy wasn't shy about calling it that publicly — the eyes of an angry fan base remained focused on the quarterback, a man who had had the misfortune of following a legend and a legendary team that he had helped take to a Super Bowl championship.
---
Next week - Chapter Four: The Chiefs Address a Need