The seventh graders filed into the press conference room as their tour of Arrowhead Stadium was winding down.
The 31 kids – all members of "68's Outlaws" youth football team – were celebrating a second-straight "Canton Classic" title with an up close look at the Hall of Honor, the locker room and everywhere in between on Tuesday afternoon.
The tour was expected, but what happened next was not.
As one of the kids resisted a collective call from his teammates to show off his touchdown dance up at the podium, a pair of familiar faces strolled in unannounced.
It was Kansas City Chiefs' tailback Charcandrick West and offensive lineman Cameron Erving, on hand to congratulate each of the young athletes on their championship.
"It's great to come in here and do this with these kids. I remember when I was growing up as one of those kids and wishing I had an NFL player to give me some words of advice," West said. "It's crazy to see those kids and how happy they were. That's the blessing about being in the NFL."
West and Erving answered questions, signed autographs and provided the Outlaws with some advice on not just football, but life in general.
"I just told them to have fun, be yourself and don't worry about what's going on in this world - just try to live life," West said. "The thing I do is I just try to wake up and be as happy as I can all day long. I'm not getting caught up in everyday life. We're blessed just to wake up, so why stress over things you can't control? My biggest advice to them is to control what you can control."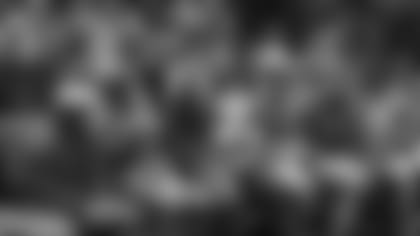 The Outlaws, who are backed by Hall of Fame offensive lineman Will Shields, have certainly controlled their actions on the field the past two seasons, winning back-to-back titles.
"We won our region and were able to go to Canton, where we played a round robin against teams from Indiana, Texas, Ohio and New Jersey," said Head Coach Tyus Jackson. "We did pretty well and came back here with another championship."
The Outlaws were founded in 2015 with the intent of providing kids with the chance to play tournament football on the national stage. They offer several different teams aimed at different ages, with this particular group bringing home some hardware in consecutive seasons.
It's something that goes beyond just football – it's teaching the kids how to go about their lives.
"Football has been such a big part of my life," Erving said. "It's taught me so much - just how to live on a day-to-day basis. I don't think there's anything else out there that builds character the way that athletics does."
Those words of advice went a long way for those listening.
"I'm a three-time cancer survivor and when Cam was talking about developing work habits through sports and how it'll get you through life, that's ultimately why I started this program," said Bryan Bigelow, Founder and Director of the Outlaws. "I was told I had two weeks to live 24 years ago, and if it wasn't for 18 years of football and 14 years of wrestling, I wouldn't be here today."
And at the end of the day, that's what youth sports are all about – forging better people that are prepared for whatever life throws at them.
"Today's message was that you can be whatever you want to be," Jackson said. "(West and Erving) wake up just like these kids do every day, and they're here doing what they want to do. If you live life that way, you truly respect the game and you do what you're supposed to do, your dream can come true, too, because you're working to be a pro."
Kansas City Chiefs running back Charcandrick West and offensive lineman Cam Erving surprised members of the 7th grade Outlaws Youth Football team while they took a special stadium tour on Tuesday morning.