One of the most recognizable figures in sports stopped by the Chiefs offices on Thursday and shared his thoughts on everything from the Royals historic run to Andy Reid and the 1969 Chiefs beating the "big, bad Vikings" in Super Bowl IV.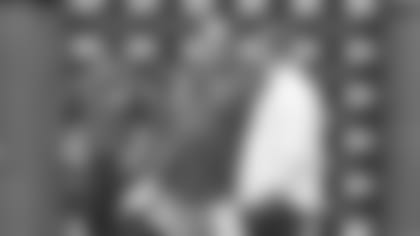 Chris Berman, whose "back, back, back" and "he….could….go….all….the….way" have become catch phrases for every sports fan, regardless of town or team.
Berman, who spent the early part of the week in Kansas City covering the Royals, dropped by One Arrowhead Drive and caught up with his good friend, Chiefs coach Andy Reid.
After catching up with Reid, a friend of more than 15 years, Berman shared his thoughts on the overall sports atmosphere happening in Kansas City right now.
Berman, a native New Yorker, recalls the feeling he experienced when watching the Chiefs' Monday Night Football win over the Patriots, followed the next night by an extra-inning Royals victory over the Oakland Athletics in the American League Wildcard game.
"It was the same emotion [from the fans]," Berman said of the two nights. "It was very cool. It was something really, I don't want to use the word wholesome—that's not what I'm trying to say. I don't want to say collegiate either, but it was just pure. I loved it.
"As a sports fan, you love it. Especially [since] it's been quiet around here lately for certainly baseball and really, except for last year for a little while—football. So I respect when fans get a chance to rise back up. It's a good thing."
Growing up a Jets fan, Berman has a special appreciation for the Chiefs going back to the days of the American Football League (AFL), founded by the late Lamar Hunt.
"Having Arrowhead and the Chiefs back in the mix goes back to the original AFL," Berman said. "The fans are cheering because they're fans, not because they want to be vulgar and think they can out-insult somebody."
Midway through talking about the state of sports in Kansas City right now, Berman noticed the iconic "huddle" picture of Len Dawson and the 1969 Chiefs team on the wall.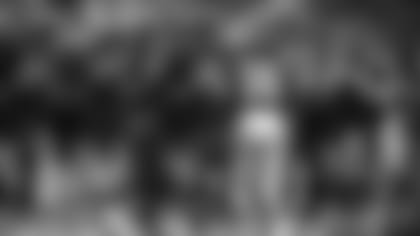 "The reason Super Bowl IV was bigger than just a Chiefs win," Berman explained as he walked up to the picture and named off everyone from Len Dawson and Otis Taylor, to EJ Holub and Mike Garrett. "This is going back long before your time, but it was the final game of the AFL, and that team kicked the crap out of Minnesota and the big bad Vikings.
"It was the final game of our league. Whatever happened in that 60 minutes, our league was done either way. That was a big. If you were a Jet fan and I was then, with Namath, we didn't like the Raiders, so therefore the Chiefs were the western team we could root for, so it was a double thing."
His appreciation for the history of the Chiefs could be rivaled by his respect for coach Andy Reid.
Berman, who has worked for ESPN for more than 35 years covering football, baseball and other various sporting events, explained why he believes Reid is such a respected coach among his players, both current and former.  
"I just think that with Andy [Reid], there is a respect factor both ways and he trusts his players," Berman said. "He isn't the only coach that does it but from the background that he came from, which would be Mike Holmgren, which would be from Bill Walsh. That was way ahead of its time to have a players' committee.
"That seems small to the average public 'Well of course the players have a voice.' Well, that goes back a couple football generations if you will. The way Andy has been taught and he wouldn't have it any other way, so he really leans on his players' committee to both not only carry his message but to hear what's up with them and he is as in tune with his players' group as any coach I've ever known. I think that's really critical."
Reid explained more about the players' committee after practice on Friday. 
"It's just one guy from each position," Reid explained. "Normally, they're the leader of that position. If there are any problems or situations that arise, the players have a communicator to talk to. They can bring it and put it on the table with me. The committee can also meet before it gets to me and figure it out.
"It's just open communication. That's the main thing. Just like anything in life, open communication is important."
Most people only see one side of coach Reid, and Berman discussed what he thinks people might be surprised to know about Reid.
 "The easy answer for me: most people only see him on the sidelines," Berman said. "Well no one is going to be Jackie Gleason on the sidelines. I understand that, to date myself. But the press conferences—he's pretty boring, isn't he? But he really has a great sense of humor. He laughs a lot. He's very funny in a chuckling sense of humor sort of way.
"He's through the years been kind enough to spend some time with me on the phone—and I'm understating it, but we laugh half the time."