The Kansas City Chiefs return to action on Sunday with a big-time matchup against the New England Patriots, and for a fourth-straight year, they'll be taking the field in style.
The game will mark the annual "My Cause, My Cleats" initiative, where players from around the league will sport custom footwear designed to bring awareness to charitable efforts important to them. Many of the shoes will then be auctioned off following the game with proceeds benefiting each respective cause.
More than 15 players are participating this year in addition to Head Coach Andy Reid and KC Wolf.
Check out what some of the Chiefs will be wearing on Sunday below.
---
---
Patrick Mahomes – 15 and the Mahomies
About 15 and the Mahomies: 15 and the Mahomies is dedicated to improving the lives of children. The Foundation will support initiatives that focus on health, wellness, communities in need of resources and other charitable causes.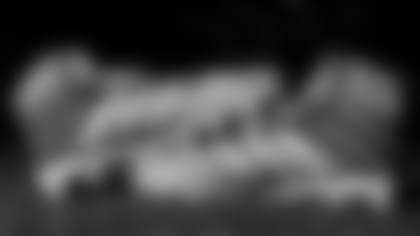 ---
---
Travis Kelce – 87 & Running Foundation
About the 87 & Running Foundation: Eighty-Seven & Running helps underserved youth strive to become productive citizens by mentoring and motivating them to explore and develop their abilities while learning critical life skills. Founded in 2015, they have remained dedicated to providing resources and enrichment opportunities for youth and their communities through fundraising, athletic programs, mentoring, and outreach initiatives.
---
---
Cam Erving – V Foundation
"I've had cancer affect people close to me in my family, so it's something that's near to my heart," Erving said. "It means a lot to continue to bring awareness to something that's hurting a lot of people."
About the V Foundation: The V Foundation for Cancer Research started in 1993 with a big dream: achieve victory over cancer. Since then, they've expanded into an organization that has awarded over $200 million in cancer research grants.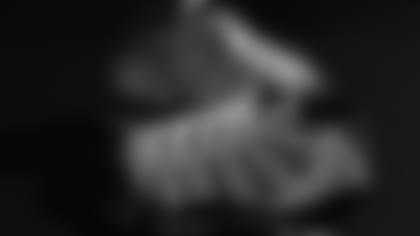 ---
---
Laurent Duvernay-Tardif – LDT Foundation
About the LDT Foundation: The LDT Foundation believes that both physical activity and creativity are fundamental factors for children's development and educational success. They organize turnkey events that encourage a balance among sports, arts, and studies, with a special focus on Elementary Cycle 3.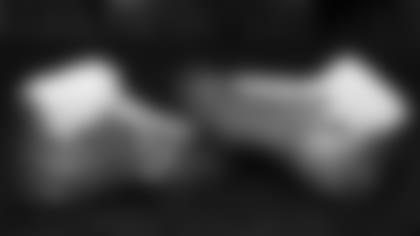 ---
---
Anthony Sherman – E3 Foundation
About the E3 Foundation: Whether it be in the fight against sex-trafficking or serving those who have served us–our Combat Veterans, their mission is to serve others and fight for those who cannot fight for themselves. In the two years since they began working towards that goal, they have seen lives changed and God honored.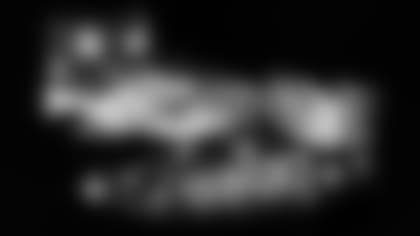 ---
---
Tyrann Mathieu – Tyrann Mathieu Foundation
About the Tyrann Mathieu Foundation: Tyrann established his foundation to impact the lives of financially disadvantaged children and youth through encouragement, opportunities and resources to achieve their dreams in Kansas City & and his hometown of New Orleans.
---
---
Daniel Sorensen – Parkinson's Foundation/Multiple System Atrophy
About The Parkinson's Foundation: The Parkinson's Foundation makes life better for people with Parkinson's disease by improving care and advancing research toward a cure. In everything they do, they build on the energy, experience and passion of our global Parkinson's community.
Multiple System Atrophy Coalition: The Multiple System Atrophy Coalition is a positive beacon of hope standing up to a little known, rare, insidious disorder. Made up of dedicated volunteers, The MSA Coalition has a primary purpose of assisting researchers to find a cure for multiple system atrophy. In the meantime, The Coalition provides critically important patient and care partner support, educational resources, and advocacy to increase awareness and to fight for issues important to the MSA community.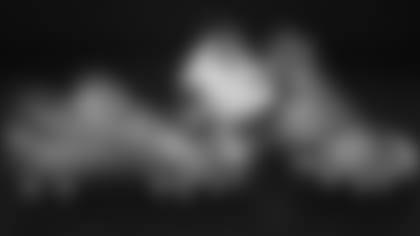 ---
---
Ryan Hunter – Rally Caps / KC Pet Project
About Rally Cap Sports: Rally Cap Sports is on a mission to enable children and young adults of all abilities to enjoy and participate in sports. Rally Cap Sports launched its first chapter at Bowling Green State University, establishing the model for future chapters.
About KC Pet Project: KC Pet Project is a 501c3, nonprofit charitable organization operating the Kansas City, Missouri Animal Shelter. They care for over 10,000 animals a year and work collaboratively with Animal Control and other animal welfare organizations to increase the number of homeless pets adopted, and focus on lifesaving programs promoting pet retention, identification, lost pet reunions, and pet ownership education throughout the community.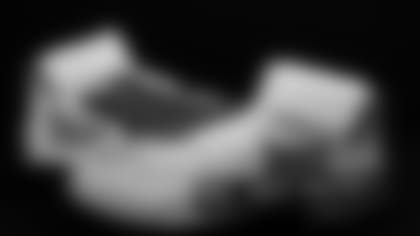 ---
---
Nick Allegretti – Uplifting Athletes
About Uplifting Athletes: Uplifting Athletes seeks to inspire the rare disease community with hope through the power of sport.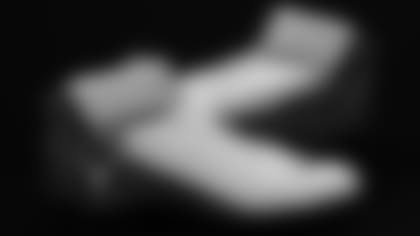 ---
---
Emmanuel Ogbah – Prostate Cancer
About Prostate Cancer: Prostate cancer is the most common cancer among men, with 1 in 9 men diagnosed in their lifetime. Right now, one man dies every 17 minutes from prostate cancer in the United States.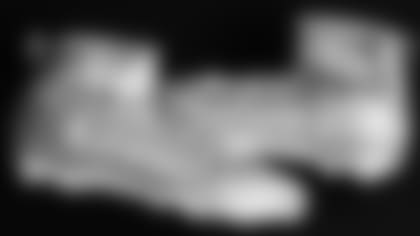 ---
---
Andrew Wylie – U.S. Armed Forces
About the U.S. Armed Forces: The Army, Marine Corps, Navy, Air Force and Coast Guard are the armed forces of the United States. The Army National Guard and the Air National Guard are reserve components of their services and operate in part under state authority.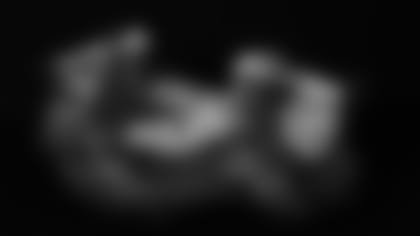 ---
---
Dustin Colquitt – TeamSmile
"Coach Toub's daughter actually designed these, and top to bottom, everything is done. It's a whole new shoe. It's a piece of art," Colquitt said. "I think the cool part about TeamSmile is there's immediate gratification about changing kids' lives. They come in and they're not happy with what's going on in their mouths, and 20 minutes later, they have this smile that their parents haven't seen in years. It's a really cool thing and I'm always excited to rep them."
About TeamSmile: TeamSmile is the nation's premier advocacy group that partners oral health professionals with professional athletic organizations to provide life-changing dental care to underserved children in our communities. By partnering with professional sports organizations, they create an experience that develops bonds between children's organizations, oral health professionals, surrounding communities, and the athletes that solidify the message that oral health care is vitally important to long-term health. Through this experience, children receive free oral health education, screening, treatment, and are taught that the mouth and body are linked for overall health.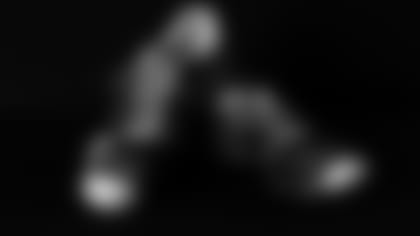 ---
---
Sammy Watkins – V Foundation
"They're really nice. They bring back memories of my grandparents and particularly my grandmother, who passed away from cancer. It's a great cause. I can go out there and represent her on the field," Watkins said. "I think the NFL did a great job with this. It's just another way to express ourselves and for people that are going through struggles, we can be connected to those causes."
About the V Foundation: The V Foundation for Cancer Research started in 1993 with a big dream: achieve victory over cancer. Since then, they've expanded into an organization that has awarded over $200 million in cancer research grants.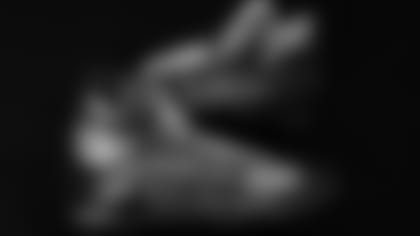 ---
---
About Convoy of Hope: Convoy of Hope was founded in 1994 by the Donaldson family. Their inspiration for starting the organization can be traced back to the many people who helped their family after their father, Harold, was killed by a drunk driver in 1969. Today, more than 115 million people have been served throughout the world by Convoy of Hope. They are proud that we work through churches, businesses, government agencies, and other nonprofits to provide help and hope to those who are impoverished, hungry, and hurting.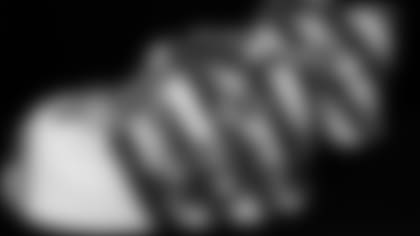 ---
---
Mitchell Schwartz – Fuel Up to Play60
About Fuel Up to Play60: Fuel Up to Play 60, the leading in-school health and wellness program empowers students and educators to work together to build healthier schools and create healthy, high achieving students. The program offers a variety of opportunities for adults, students and schools: from in-school wellness initiatives to funding opportunities, there is something for everyone!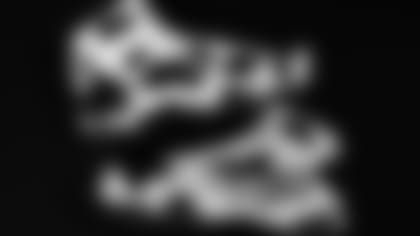 ---
---
About Laurel House: Laurel House first opened its doors in 1980 for the purpose of providing hotline and emergency shelter for victims of domestic violence. Now, nearly 40 years later, Laurel House has grown into a comprehensive domestic violence agency, providing supportive services, as well as dating violence and domestic violence prevention education.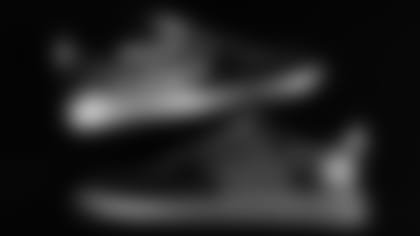 ---
---
Juan Thornhill – Suicide Prevention
"I think they did a really good job. The cleats definitely have the message that I wanted to spread," Thornhill said. "There was somebody close to me that we lost, so I wanted to get this message out and fight against suicide. If you're having problems, you can call the number – it's on the shoes – and I want people to know that. Most people keep those kinds of battles to themselves, and this is a great opportunity where maybe if they see my cleats, they might call someone for help."
About the Suicide Prevention Hotline: The National Suicide Prevention Lifeline is a leader in suicide prevention and mental health crisis care. Since its inception, the Lifeline has engaged in a variety of initiatives to improve crisis services and advance suicide prevention for all, including innovative public messaging, best practices in mental health, and groundbreaking partnerships.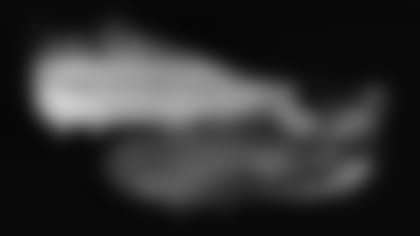 ---
---
LeSean McCoy – LeSean McCoy Foundation / ALS
About the LeSean McCoy Foundation: Multiple times a year LeSean reaches out to Pennsylvania and New York communities to bring them together, enrich the community and give back. With a focus on socio-economically disadvantaged children and their families, he hosts charity cookouts, job and community resources fair, softball and basketball games, turkey drives, school supplies and uniform handouts, holiday season gift giving; and direct support to individuals/families battling amyotrophic lateral sclerosis ("ALS") also known as Lou Gehrig's Disease.
---
---
Derrick Nnadi – Virginia Beach Tragedy Fund
Virginia Beach Tragedy Fund: Virginia Beach has asked United Way to be their partner on creating a fund for the victims. 100% of the funds raised will go to the victims affected by this senseless tragedy in our community.
---
---
Greg Senat – Hope for Haiti
Hope for Haiti: Remembering 10 Years Since the Haiti Earthquake Through Investments in Healthcare, Education, Infrastructure, Clean Water, and Economic Development.