Confetti rained down as some of Kansas City's most-influential decision-makers shook hands and exchanged congratulations on Thursday morning at Union Station. After years of tireless work and collaboration between numerous groups, what began as a hopeful idea had finally transformed into a concrete reality.
The 2023 NFL Draft is headed to Kansas City.
"Great news like this shows what this city can be and what it's becoming," said Kansas City Mayor Sly James at Thursday's press conference. "Make no mistake, this will be one of the biggest events in the history of this city."
James was in attendance on Thursday alongside Kansas City Sports Commission President & CEO Kathy Nelson, Chiefs President Mark Donovan, City Planner Troy Schulte, Union Station President & CEO George Guastello and 2023 NFL Draft Local Organizing Committee Co-Chair Greg Graves – each of whom played a critical role in the bidding process and will continue to do so as preparations for the event get underway.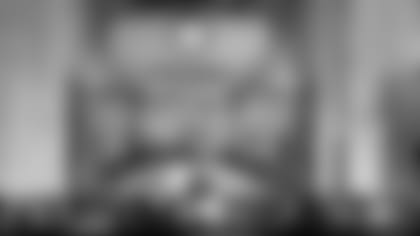 "Lamar [Hunt] is looking down and smiling right now," Donovan said, referencing the Chiefs legendary founder. "He would be proud of the impact this franchise has on this region, all of the cooperation between this city and this franchise, and all of the support from Chiefs Kingdom, which makes things like this possible." 
Fittingly, the news came on the 56th anniversary of Hunt's initial announcement to move the Dallas Texans to Kansas City back in 1963. All these years later, Kansas City will host the marquee event of the NFL offseason and the second-biggest event on the league's calendar overall.
In fact, 47.5 million viewers tuned into the Draft just last year. It's a mammoth event, drawing the attention of more than 115 nations around the world.
"This is an enormous opportunity for all of us," Donovan added. "We are so excited to be a part of it."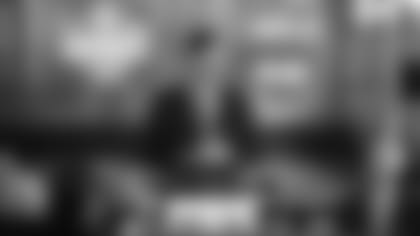 Of course, earning the right to host an event of this magnitude isn't easy. It took vision, exhaustive research, seamless collaboration, endless hours of work and numerous bids to make this happen. What began as an initial inquiry back in 2015 led to formal bids that fell just short a few years later, but the group's unwavering persistence ultimately paid off this week.
"We know that Kansas City will be a successful host city," Nelson said. "We are accessible to people from all four corners of the country. We have deep, historic cultural roots and great food and entertainment options, [not to mention] our passionate Chiefs Kingdom fanbase. We know we will create memories for fans of all teams as they enjoy a massive, free football festival, and we'll work with the NFL to make sure we create lifelong memories for the draft prospects and their families."
The Draft was held in New York City from 1965 until 2014 before moving to Chicago for two years from 2015-16. Philadelphia, Dallas and Nashville have all held the event since, with the latter attracting hundreds of thousands of fans just a few weeks ago while generating more than $200 million in estimated economic impact.
"We expect thousands of hotel rooms to be booked more than a year out," Nelson said. "Restaurants, bars, transportation, retail and local Kansas City attractions can all expect a major lift in business during draft week."
And while the three-day event is still four years away, the preparation will get started immediately.
"We will watch and learn from [the other cities in the coming years] and the NFL Events team will continue to work with us, our planning committee and city leaders on the details surrounding such a massive event," Nelson said. "Leading up to the 2023 Draft, we'll finalize the exact dates and the final location of the Draft stage and fan experiences, knowing that Union Station and the National World War I Museum and Memorial will be our focus for the backdrop."
That planning began as an idea all those years ago – a desire to thrust Kansas City onto the national stage in a way it has never been featured before – and as of this week, it's set to become a reality.
"I am beyond exhausted, but I am also beyond excited and beyond proud," Nelson said. "Kansas City is the home of the 2023 NFL Draft."