This weekend the Chiefs in-house production company, 65 Toss Power Trap Productions (65TPT), won three Regional Emmy Awards from the NATAS Mid-America Chapter at the Emmy Gala held at the Renaissance Grand Hotel in St. Louis, Missouri.
65TPT and the Chiefs have now been awarded 21 Emmy awards in the last three years. This year's acknowledgments were for Arts/Entertainment Special (Chiefs Kingdom: Chris Sembower), Promotional Campaign (Chiefs Kingdom), and Editor - Short Form (Jodain Massad).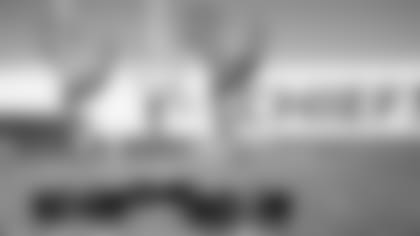 Chiefs Kingdom, bringing in two awards, is a documentary-style show. It is a full-length series dedicated to telling the stories of Chiefs fans throughout the Kingdom.
"We sincerely believe we have the best fans in the league," Jodain Massad noted, Director of Production for 65TPT. "We are inspired to celebrate their stories and the stories of their favorite team, in a manner they can't find anywhere else."
This is the second consecutive year the Chiefs have won an Emmy for Best Promotional Campaign and for Arts and Entertainment.
These awards came on the heels of the crew taking home 10 Telly Awards and for the third consecutive year, 65TPT was acknowledged at the New York Festivals. This competition honors programming from over 50 countries and is dedicated to both the Television and Film industries.
NYF Awards also included Chiefs Kingdom honors, with the NFL's first-ever Gold World Medal for Chiefs Kingdom: Chris Sembower and a Bronze World Medal for Chiefs Kingdom: John Amos.
Be sure to check your local listings to catch these Emmy-award winning shows this week.