The Chiefs Ambassadors, a group of former Chiefs players who continue to give back to the Kansas City community, recently visited an elementary school for their Legends Series.
"The Chiefs Ambassadors have had a long-standing relationship with Camp Quality and have hosted a number of assemblies where they surprise one special Camp Quality kid who has faced a battle with cancer," Georgia David, Chiefs Community Relations Coordinator explained. "The students instantly go from 'the kid with cancer' to 'the kid who is friends with the Chiefs.' The aim of Camp Quality is to let kids be kids again, and these assemblies are a perfect example of how the Ambassadors make this vision a reality."
On Monday, Chiefs Ambassadors, including Jon McGraw, Ken Kramer and Danan Hughes, visited Mill Creek Upper Elementary School in Belton, MO to host their Legends Series. They shared stories, gave advice to inspire the students, taught them about strong character and high morals and also surprised a young student.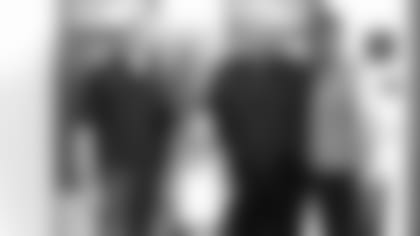 Hailey, a 6th grade student at Mill Creek, is a leukemia survivor and a participant in Camp Quality, which is the Ambassador's charity of choice. Camp Quality is a weeklong summer camp for children with cancer, striving to provide hope to families.
The group surprised Hailey, by inviting her to the front of the assembly to recognize her for her courage and determination through her battle with cancer.
"It's a really special event, one because we get to help these kids and give them advice, but also because we get to promote and support Camp Quality," McGraw explained. "Today, we got to celebrate Hailey and her battle over cancer. It's a tremendous experience to see how surprised she was and to see all the kids faces light up, see their excitement and feel their energy."
Hailey was thrilled to have been surprised and honored by the Ambassadors, while her father was thankful for the recognition and the efforts of the Chiefs and Camp Quality.  
"This was very cool," Ryan Johnson, Hailey's father, noted "She's been going to camp for several years and it's an amazing experience seeing these kids with cancer who are making it and having a great time in the process through Camp Quality and the Chiefs involvement."