The Kansas City Chiefs woke up this morning in a team hotel, hours away from their second preseason game of the year, hosting the San Francisco 49ers, tonight at 7:00 PM CDT in Arrowhead Stadium.
Just days removed from being on the practice fields of Missouri Western State University in St. Joseph, Missouri, the team's players and coaches received an extra jolt of energy before they left training camp, thanks to a special visit from 13 Kansas City Chiefs ambassadors.
"It meant a lot having those guys come back," Chiefs OL Jeff Allen said. "So many great players from different eras, for them to come back and show their support, it meant a lot to us as a team. They want to restore that tradition that they had of winning football games, winning conference championships and the Super Bowl and that's what we're trying to do."
The ambassadors watched a training camp practice last week and were later invited by Chiefs head coach Andy Reid to address the team by introducing themselves and sharing when they played for the Chiefs, at which position and more.
"I think it's good to blend the old and the new," Chiefs ambassador and former Chiefs great Keith Cash said. "It's kind of fun just to, as coach Reid said, 'smell the sweat'."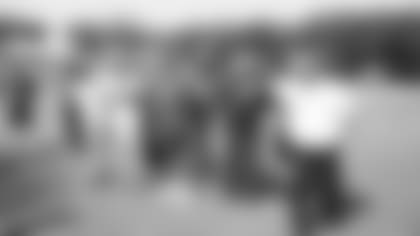 While the Chiefs ambassadors appreciated the opportunity to meet with the team, they weren't about to walk away, without leaving the players with one important message.
"The main thing is, we have their backs," Cash said. "We are supporting these guys. We're guys who have been there, stood in their shoes and just that the alumni really support what they're doing. They just need to know that there are other people that support them and want to see them do well."
That very message was well received by the players, including Chiefs WR Terrance Copper.
"It felt good," Copper said. "Being around guys that really paved the way for us and that have been through the same things you've been through, played for the same team you play for and to have them, as well as "E-T" (Hall of Famer, Chiefs secondary coach Emmitt Thomas) as part of the coaching staff, it makes it even better."
One of the Chiefs ambassadors, former Chiefs LB Shawn Barber, who also played for coach Reid in Philadelphia, enjoyed meeting the team and later described the Chiefs practice, led by the team's head coach.
"It's a classic Andy Reid practice," Barber said.
"Everything's about going fast; everything's about tempo. Andy Reid is a master of the practice schedule and allowing guys to be off their feet, to enjoy their time when they're not on the practice field. He is very creative in how he develops and designs practice schedules to keep guys in-tune and interested, but also letting everybody know that it's an expectation for men to act like men and this is not a game for boys to be played; it's an opportunity for guys to make a great living and an opportunity for guys to go out and do something special. Each year is its own year. It doesn't matter what you did last year; it's not going to matter what the Chiefs do in 2014, it's all about living in the moment."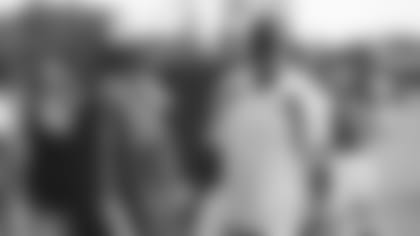 Among the 13 Kansas City Chiefs ambassadors visiting the team's training camp practice was Pro Football Hall of Famer and Chiefs legend Bobby Bell.
"I was very impressed with the practice, how smooth it went," Bell said. "That's the first practice I had seen with coach Reid and I was very impressed with it, how organized it was and how the players seem to buy into the program. They're out there and they were right on-point. It was great."
Bell met with Andy Reid after the team's practice and shared his thoughts with the team's new head coach.
"I was just telling him that I was very impressed with the exhibition game and how the first team went in and moved the ball down the field," Bell said.
"I said that's very impressive that the players had bought into the program and that they performed really great. I thought they had been playing together for maybe a year or two years; it's very impressive. I'm looking forward to this year."
The same can be said for the entire Chiefs Kingdom, not just for tonight's game, but in 2013 and beyond.