The season may have come to an end last weekend, but the Kansas City Chiefs' commitment to the community was still in full swing on Tuesday afternoon as seven Chiefs Ambassadors visited with patients at The University of Kansas Health System.
Former Chiefs Shawn Barber, Kendall Gammon, Tim Grunhard, Dave Lindstrom, Chris Penn, Jan Stenerud and Walter White spent time in both the pediatric and trauma centers of the hospital, going room-to-room signing autographs and taking pictures.
"One of the greatest things about the Kansas City Chiefs organization is that they give us an opportunity as Ambassadors to go and do these kinds of things," Grunhard said. "There's so many great kids up here that are fighting for their lives and fighting to get healthy. This community has been great to us and we like to give back."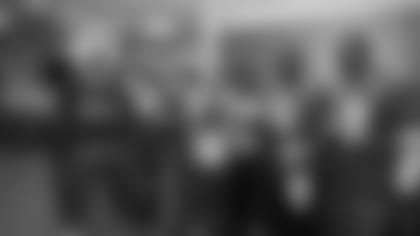 The Ambassadors are a close-knit group of former Chiefs players who continue to serve the Kansas City community through a number of different initiatives. It's the only organization of its kind in the NFL, working throughout the year to make a difference.
"This city has a huge heart," Lindstrom said. "It's just nice to come up here and put a smile on some kids' faces that are going through a lot of tough things. While we're worried about losses, third down conversions and turnovers, they're worried about literally fighting for their lives."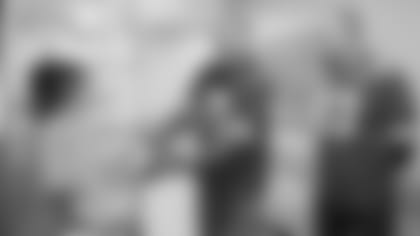 The visit was yet another instance of what the Chiefs and the Health System envisioned when they partnered together in 2012.
"It's just incredible for the kids," said Bob Page, the President and CEO of the Health System. "It's another example of how this partnership has flourished."
And for the Ambassadors, it was a simple gesture that had the potential to go a long way.
"These people here, the nurses and the doctors and everybody that's involved on the floor here, they do a such a wonderful job," Grunhard said. "If we can come in here and make their job a little bit easier and get a smile from somebody, that's worth our time."
The Chiefs Community Caring Team, led by the Kansas City Ambassadors, visited with patients in the pediatric and trauma centers of The University of Kansas Health System.