He can't remember the intricate details of the moment, but the meaningfulness of it stays with him to this day.
About 10 years ago, former Chiefs strong safety and now Ambassador member Deron Cherry was eating dinner in a Kansas City restaurant when what he identified as a "grown man" approached him.
The stranger recognized Cherry from a long time ago.
"You won't remember me, but you came to visit me at KU Med Center," the stranger said. "I had leukemia. They didn't give me a chance of living, but here I am today.
"My cancer went into remission and I'm alive."
The man went onto describe how when Cherry visited him, he was struggling. The chemotherapy had taken a toll, but the visit had lifted his spirits.
"You really don't know the impact that you have when you come and you do this," Cherry said. "No one wants to be in the hospital, but it was a great experience, so we wound up bringing it back to the guys and said 'Hey guys, I think this is a great idea for us to come back here and make this a permanent part of who we are and what we do as Chiefs Ambassadors.'"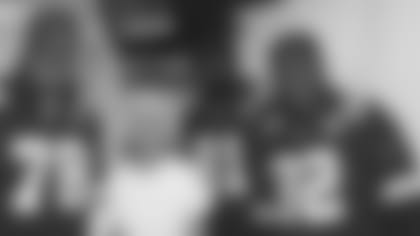 10 years after the moment in the restaurant and nearly 25 after that impactful visit, Cherry, about 15 of his fellow Ambassadors, K.C. Wolf and the Chiefs Community Caring Team were back in the University of Kansas Hospital visiting patients on Wednesday afternoon.
Former Chiefs linebacker Mike Maslowski, who serves as the director of the Chiefs Ambassadors, helped lead the charge.
"To be able to come and visit people in the hospital as a Chief and former Chief, to make a difference in their lives and to bring a little joy to them when they're in a tough situation with their health, it means a lot to us," he explained.
Upon arrival to the hospital in the late afternoon, the Ambassadors armed themselves with teddy bears and sharpies as they made their way to the pediatric, orthopedic and oncology and hematology surgery units.
K.C. Wolf kept the children laughing as former Chiefs tight end Walter White made certain that no patient went empty-handed.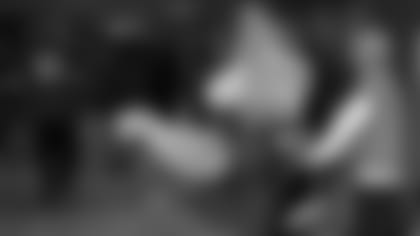 Chiefs president Mark Donovan, who was also in attendance, commended the Chiefs Ambassadors for their efforts.
"We are so lucky to have the Ambassadors as a group," he said. "Today was another opportunity for perspective. When you think you're having a bad day and you spend a moment on certain floors in this hospital, you realize how lucky you are, and we consider ourselves really lucky to be in this community.
"We consider it our responsibility to give back to this community and be a part of the community, and today was another one of those examples of how we can do that."
The Kansas City Chiefs Ambassadors visit patients at the University Of Kansas Hospital