The two players walked in, baskets in hand, as disbelief filled the air.
"How y'all doing?" Tyrann Mathieu asked as the All-Pro safety, alongside fellow defensive back Juan Thornhill, approached this family of six. "We have a few gifts for you guys."
This was the beginning of an unforgettable afternoon at the Guadalupe Center, a complex nestled just 10 miles from Arrowhead Stadium. For a century, the organization has strived to improve the quality of life for people of all ethnic backgrounds such as Judith Pacheco Perez, a hard-working single mother who does her best to make ends meet for her family.
The center asked Perez to come in on Tuesday for what was described as a small surprise, but she had no idea what was in store.
"We just want you all to have a wonderful holiday season," Mathieu said as the two players passed out gifts to Perez's children. "I know your mom does a lot for you all."
The afternoon could have ended there. Here were two professional football players handing out presents ahead of the holiday season, making an initially ordinary afternoon unforgettable, but this was far from over.
We have a couple more things for you guys," Mathieu said, disappearing into a back room before re-emerging with baskets full of holiday food. "I'll just set this right here," the seven-year veteran said with a smile.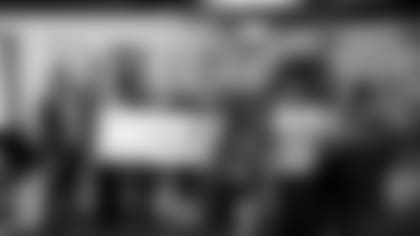 Still though, this was all supplementary. The true surprise was on the way.
"Judith, I'm Brian from Kansas City Southern," a voice said amidst the excitement as a giant check came into view. "This is a check from us and the Chiefs to cover your utilities and groceries for a year. We're going to take care of all of that for you."
This powerful moment was one of several that echoed throughout this past week as the Chiefs prepared to take on the Los Angeles Chargers at Estadio Azteca in Mexico City on Monday night. That trip will cover more than 1,600 miles, but before boarding the plane, this week was about making a difference in the Hispanic community right here in Kansas City.
It began with a visit to Guadalupe Centers Middle School on Monday, where Chiefs' rookies Nick Allegretti, Jody Fortson and Alex Brown led dozens of kids through Play60 drills as a reward for academic performance.
It was an experience that left an impact on Allegretti.
"You don't really think about the way kids are looking at you, but when I think back, I remember everybody that came to my school," Allegretti said. "The fact that I can give back and help these kids learn a little about football is awesome."
Mathieu and Thornhill's surprise at the Guadalupe Center then took place just a little more than 24 hours later, furthering the Chiefs' commitment to the local Hispanic community even more.
"Judith goes through a lot raising her kids by herself, but she makes it work," Mathieu said. "The holiday season is always a time that you think about family and celebrating, so it was good to put a smile on her face today."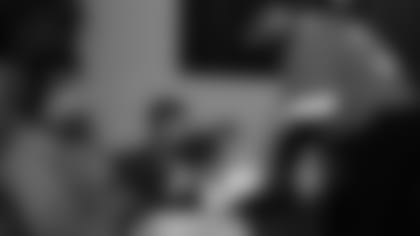 Both events took place in partnership with Kansas City Southern, a major railroad company that operates in Mexico but is based right here in our backyard and is serving as a sponsor of the Chiefs' game in Mexico City.
And, as the surprise on Tuesday demonstrated, this partnership goes far beyond just football.
"Kansas City Southern loves the Guadalupe Center. It's just such an important part of our community," said Brian Hancock, Chief Innovation Officer at Kansas City Southern and the individual who presented Judith with her life-changing check. "This is about taking some of the burden off. Folks like this work as hard as anybody, and to see her family like this and the emotion, it was just great."
Again, if the story ended there, this would be plenty. It's special when organizations can come together to change lives for the better - which is exactly what the Chiefs and Kansas City Southern did for Judith's family – but there was one more surprise left.
As employees gathered at Kansas City Southern's headquarters downtown on Friday for a pre-game rally, Chiefs President Mark Donovan asked representatives from the Guadalupe Center to join him and Hancock in front of the group.
"This week, we've done an awful lot together," Donovan said. "Today, we have a surprise that will make our support of the Guadalupe Center last a little bit longer."
Donovan and Hancock then revealed yet another check, marking a collaborative donation from both the Chiefs and Kansas City Southern for $20,000. If Tuesday's surprise changed the lives of one family, this represented the opportunity to do so for many more.
"We had no idea that we were getting a check today," said Christina Jasso, Family Support Program Manager at the Guadalupe Centers. "We knew that the Chiefs and Kansas City Southern were going to support Judith, but we had no idea that this check would also be impacting even more people this year. It's a blessing."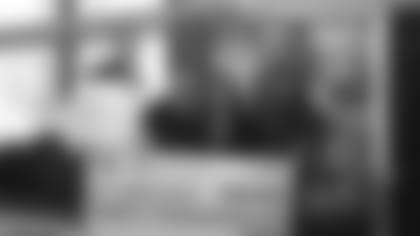 The surprise capped off an unforgettable week right here at home before the Chiefs head to Mexico City, from teaching the kids at Guadalupe Center Middle the fundamentals of football to directly supporting the great work being done by the Guadalupe Centers every single day.
It's work that helps individuals like Judith, who fought back tears on Tuesday while reflecting on what had just transpired.
"This is the first time something like this has happened in my life. You work hard every day and then something like this happens, and you just can't believe it," Perez said. "This has given my family a huge thing."