For the 11th year, the Kansas City Chiefs and Kansas City Royals teamed up in support of Operation Blessing International.  On Saturday, Chiefs and Royals players joined volunteers in assembling and distributing food for thousands of individuals throughout the community.  
Operation Blessing was founded in 1978 as a non-profit relief organization which donates produce, canned goods, building supplies and provides disaster relief to natural disaster victims and needy families all around the world.
"The event is an opportunity for all of the community to come together," Pam Erickson, Vice President of Corporate Relations with Operation Blessing said.  "You have the Chiefs and the Royals – and then Operation Blessing, with all the companies and their fabulous volunteers.  We would not be able to do this without the 200 some volunteers here to help."
Volunteers from the Kansas City community, along with members of the Chiefs Community of Caring Team, including players, KC Wolf, and Chiefs staff; as well as Royals players, alumni, staff, and Slugger were all in attendance lending a hand.
"It is always great to get out and meet people from the community, but to be able to help people here who need it, means so much," Chiefs Offensive Lineman Jon Asamoah explained.  "To meet so many families and kids from the community, it's a lot of fun and a great way to give back."
By the end of the event 7,000 bags of supplies distributed to approximately 3,000 families in need thanks to this outreach program.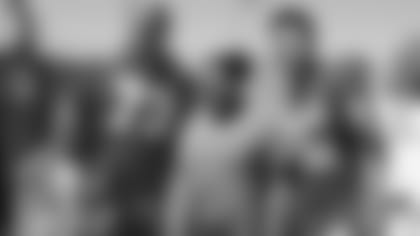 "The way we reach the community is connecting with certain agencies and utilizing their network, knowing the people who have the needs and communicating to notify them, of events such as this one," Erickson commented.
In 2012, Operation Blessing furnished several tractor trailer loads of food – about 74,000 pounds and more than 2,500 families benefited.
Continuing the cause this year, the two teams united again toward one goal, bringing hunger relief to families in Kansas City.  
If you missed the event, you can still support Operation Blessing by donating online.