OFFENSIVE COORDINATOR DOUG PEDERSON
Q: Has there been any big surprises so far?
PEDERSON: "No, when you're in your third year like this, when your quarterback is in his third year, most of our guys are in their third year. They understand the offense. That's kind of what we're seeing from our guys that have been around. There are a few guys like Jeremy Maclin and Ben Grubbs and guys that we pulled in and Paul Fanaika, they're just kind of plugging in and picking up where we left off. This spring has been really good that way because now again, everybody understands what we're doing offensively. It allows us to play and practice faster."
Q: How is Jeremy Maclin doing in this system?
PEDERSON: "It's really big, a lot of familiarity. He's only a couple years removed from our system. We've changed some things since he's been in the offense, but he's such a smart, savvy veteran guy that he's really picked up on what we're doing really fast. He and Alex have sort of developed that continuity right away and done a nice job."
Q: Is Maclin sort of a receivers coach on the field?
PEDERSON: "He does, but again, he's still learning our system. Again, he's been a couple years removed from what we're doing, so there is some newness to him. He's got to get himself familiar with what we're doing, but yes, he has played a lot of snaps in this league and he knows our offense inside and out. He can definitely help the younger receivers."
Q: How do you think Mitch Morse and Chris Conley are doing?
PEDERSON: "I think they're doing an excellent job. We've thrown so much – even at our vets, but we've thrown so much at our rookies during rookie camp, all the OTA practices, Phase 2 and 3. These guys have really studied. You can see they've taken playbooks home at night. They're studying to prepare, and they're smart guys. They really have come in and handled themselves very well. They've put themselves in a position to help us."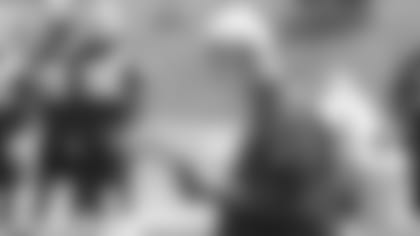 DEFENSIVE COORDINATOR BOB SUTTON
Q: What is important about these OTAs?
SUTTON:"I think it's really trying to deal with the system. You're trying to get that as grooved as you possibly can with everybody involved. You're working with your first group, but you're also trying to develop your depth and you're trying to make sure the young guys, from guys that will come out here on their own, undrafted guys, you want to make sure you evaluate everyone and you haven't let anyone slip through the cracks because there are players out there and we just have to do a good job of trying to get them as coached up as much as we can so we can evaluate them the best we can. So I think it's really about getting the system in, making sure that they're grounded in their fundamentals, which is really important at this time of year and then just trying to make sure we are aware of everybody that is on our roster and can this guy find a role to help us win in 2015."
Q: Was it uncommon for a player like Phillip Gaines to come such a long way in a short period of time?
SUTTON:"I think really as the season went along last year, he went in and really went in to play nickel. And that was a position that we really weren't sure was really his best position. But he went in and did a great job stepping in there. And I think that really helped him. He got a chance to get on the field, he got some exposure in there and I think that settled him down. There is a transition for everybody that comes in the league and I think each guy is a little different, each position is a little bit different. But I think he's done a great job and I would echo your thought. I think he has come back and been really good in this camp so far."
Q: How much of a setback is it to not have your two rookie cornerbacks here at OTAs?
SUTTON:"Well, I don't know if you can really say it's a setback. It's just what it is. We had to do it with De'Anthony last year. You just hope they can get as many reps when they come back to the mandatory camp as they can. And it's just the way it is. There is nothing really they can do about it and nothing we can do about it, so you've just got to live with that and those are the cards you're dealt with. We're going to coach them up hard and they'll come back prepared and go like that. And the biggest thing is you get that technique base that you'd love to have. But that's the way it is and we've just got to adjust."
Q: Are there any real surprises or anything you are excited about so far even though it is early?
SUTTON:"No, I don't know if there are any real surprises. We've been really happy with the energy and the effort that these guys have had day-to-day. I think that's one of the things that we've really tried to emphasize, that each of these OTA days is an opportunity for you individually and us collectively to move forward and kind of cut the path that we want in 2015, and you can't just look at it as another OTA. This one is a special one, tomorrow is a special one as it comes up. And if you can keep that focus, I think as a player, a coach, it's really important because you've got to stack these bricks. You're building your foundation. That foundation has got to be laid perfectly. So I think that's a big part of it. But I don't know if anything has been super surprising or anything like that. I've just been really excited about the effort and the enthusiasm that they've practiced with."
Q: What have you seen in the development of Josh Mauga from last summer to now after having all of those reps last season?
SUTTON:"Well, I think he's done a great job. He came in here last year. It was a situation where he was going to provide us depth. And like every guy on our team, we always tell them, 'one play, you could go from the guy providing depth to being the starter,' and he was a guy who really never left the field for most of the entire year. And he was coming off an injury season before we got him. I had him in New York as well. I just think he's really done a good job. He's always been a really smart football player, being able to play multiple positions and do a really good job that way, and I think he's just going to get better and better like anybody with the more playing time you have. That experience and how you deal with just the little things out there, how you deal with this block, that block, your recognition, all of those things become honed and sharp and better, so I think we're looking for him to kind of continue that rise forward."
SPECIAL TEAMS COORDINATOR DAVE TOUB
Q: On PATs, besides the 13 yards, what's the difference between a 20-yard PAT and a 33-yard PAT?
TOUB:"Big difference, it's a big difference. They can't miss it, I think Cairo (Santos) said this before, you can't mis-hit a 33-yard field goal. If you mis-hit you're going to miss. A lot of times with those kicks on the two-yard line, you can have a bad hit and it's going to go through no matter what. He's got to focus and we've really got to practice, we'll be practicing a lot more, we have to make that 33-yard extra point mentally seem just like a PAT. We'll just have to kick a lot of them."
Q: Looks like you've been doing that?
TOUB:"We've been doing it a lot."
Q: What are the angles to the new rule that people might not be thinking about?
TOUB:"There are a lot of different angles. Number one is that the field goal block team is going to try to come after those extra points a lot harder."
Q: Why now more than the old way?
TOUB:"Because the chance of fake, there's not a lot of chance. Nobody's going to want to try to run a fake for two points from the 15-yard line, it's too hard to get. There will be some, but not a lot. So chances of a fake are slim so guys are going to try to go after it a little more."
Q: So you'll be working on that part of it even more than you're used to?
TOUB:"Yeah, that and it's also the mindset of the field goal team too that's going to change. They have to be a lot more solid because they're going to get some hard pressure up the middle."
Q: What are you telling your kicker about this change, what advice do you have for him?
TOUB:"Well we're going to put the ball in the middle, that's what we've been working on. He's just got to kick a straight kick. Good snap, good hold, good solid kick. Really got to focus now, the focus is going to be a little bit more."
Q: If you don't bring in a veteran snapper to the competition, are you going to be able to sleep at night with your long snapper being one of two guys who have never snapped in the NFL before?
TOUB:"Sure. By the time we're done at training camp, and maybe even before that, we'll know who our long snapper is going to be. The good thing is I like both of these guys. I think both of them can do it in the NFL and we're going to get the best one. We have to decide who that's going to be, maybe after the second or third preseason game."
Q: How much do you know about those guys right now?
TOUB:"I know that they're both very athletic, they both have excellent snaps, they both have good speed on the ball. The thing that we don't know is how they're going to protect when there is live bullets coming at them. Those are things we're not going to be able to know until we get to a preseason game or training camp."
WIDE RECEIVERS COACH DAVID CULLEY
Q: What is the difference between getting Jeremy Maclin now as a veteran instead of a rookie?
CULLEY:"Well when I got him as a rookie, you know how all rookies come in, you know how they are. He was a first-round draft pick. But I'm going to tell you something, (I) loved the kid. And getting him now these years later, I'll tell you what, he is a consummate professional. He knows our offense, he's been in this thing before, his leadership, he's grown tremendously since then into a heck of a player."
Q: Is he a tremendously different player than the last time you had a chance to work with him?
CULLEY:"Just a more mature player. He knows now what the game is about in the NFL, he knows what it's all about. He's been a consummate pro even when he left Philly to come here. Obviously he has had tremendous years up there, obviously the last year being his best year, which just goes to show the maturity that he's had since he's been in the league."
Q: What are your thoughts on Chris Conley?
CULLEY:"I'll tell you what. Chris is a big strong kid. The thing we like about him physically, the tools are there. He's had some familiarity obviously with Aaron (Murray) having been his quarterback for a couple of years. I think the sky is limit for him. He fits the M.O. of the type of receiver you want in this offense, big and strong, playing the position he's playing. He's learning right now. He's learning again, he's learning right now what Jeremy went through five years ago, he's going through it right now."
Q: What does it mean moving De'Anthony Thomas to the wide receiver meeting room?
CULLEY:"Basically what he is doing now, a lot of the special plays we did for him last year as a running back, we put him at that position and we called it differently. And basically after looking at it, we used him more as a wide receiver, we used him more coming out of the backfield catching balls and so now it just made sense for him to be in that room learning what it is to be a wideout doing those same things. And of course now, he's more outside, he's getting comfortable with it, he's learning and doing a heck of a job."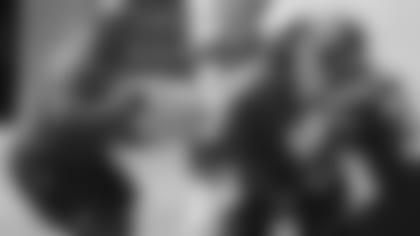 RUNNING BACKS COACH ERIC BIENIEMY
Q: Can you talk about the running back group as a whole?
BIENIEMY:"I have a very, very unique group. I never complain. Obviously I am blessed and fortunate to have a Jamaal Charles, an Anthony Sherman, a Knile Davis, a Cyrus Gray, Charcandrick West. I also have Spencer Ware, one of our newcomers. We've got Keshawn Hill, a youngster. And then on top of that every now and then, I get blessed with the opportunity to work with De'Anthony (Thomas). So I can't complain, I cannot complain at all."
Q: How much of a better coach are you with a guy like Jamaal Charles back there?
BIENIEMY:"Great players make great coaches. They make our world a whole lot easier."
Q: Is it a tug of war between you and Coach Culley for De'Anthony Thomas?
BIENIEMY:"Not at all. De'Anthony brings a tremendous amount to the table. He is a very, very unique football player. Obviously he is blessed and fortunate to be a dynamic player when he is in the backfield, but also too he can bring a different thing outside when he is placed on the perimeter. And obviously when you have somebody as unique as he is, you want to make sure that you utilize all of his skillsets to our advantage."
Q: Is that a challenge or is it exciting to try and find different areas to get him the ball?
BIENIEMY:"I think it's some of both. And obviously between Coach Pederson and Coach Andy Reid, they will work it out and also with Coach David Culley. But at the end of the day, you want to make sure to find a way to feed him the ball every now and then to make sure he makes a difference."
Q: Any steps Jamaal Charles has made this offseason? What have you seen from him?
BIENIEMY:"Each and every year, Jamaal always seems to amaze me. First and foremost, he is a unique person because he is a great leader in our room because he leads by example. He is out here every day working his tail off and the thing that I appreciate about him is that he brings his professionalism in the classroom every single day. What he does on the field speaks for itself, but he bring professionalism to the classroom each and every day and that's all you can ask for."
OFFENSIVE LINE COACH ANDY HECK
Q: How important is swapping guys' positions across the offensive line?
HECK: "I think in today's game, when we're only dressing seven on gameday, everybody should know how to play more than one position. If I'm a tackle, I need to know how to play both sides. If I'm a guard, I have to know how to play center and tackle and so forth. The more you can do, we always say. In a game, we might (say), 'Oh, this guy goes down, you go to right guard, you jump over to right tackle.' We have to be prepared to do that and be comfortable in uncomfortable situations."
Q: What do you think of Eric Kush and Mitch Morse at center?
HECK: "Both those guys are built ideally to play the position. The thing with Eric Kush, he's been in our system now for a couple years. He knows our calls. He knows our system. He's been drilling our techniques for a couple years. He's right where he needs to be. Mitch is quickly picking things up and we're cross-training him at both center and guard. We love his quickness and his leverage. He's a very explosive guy."
Q: With all the additions in skill positions, is it the offensive line that is really going to make this thing pop and get this thing going?
HECK: "When we meet as an offensive line, that's what we talk about. We say, 'hey men, let's lead this team. Let's lead by example because as we go, the team goes.' That's got to be our mentality. We want to get out there and be the most physical unit. We know the things we need to improve upon. Pass protection, that's something we're working hard to get better at. If we can do that, then we feel like we can give our quarterback some time, and our quarterback, receiver and skill guys, they'll do their thing."
Q: How is Donald Stephenson doing?
HECK: "Donald is a super talented guy. He's come in. He's working his butt off. He's been great in the classroom, so he has a great opportunity."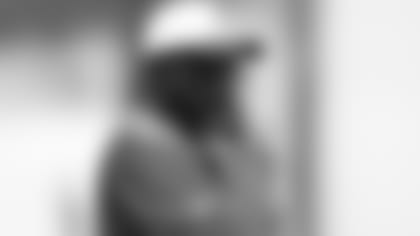 Q: You haven't been able to have Marcus Peters and Steven Nelson here in OTAs. How has the communication been going with them?
THOMAS:"It's been going good. It's a three-way thing with Al Harris and Dino Vasso. They send off all the installments to them day-by-day and week-by-week and any questions they have they'll answer them. They'll be ready when they come back."
Q: What are the challenges of them not being here, what are they missing out on?
THOMAS:"I think the daily routine of repeating every day and getting the new material right now and then coming out and executing it in full flow. They were here earlier and both of those guys learn real well, so they'll be ok."
Q: They're both coming from the West Coast, did you warn them about the heat?
THOMAS:"But one of them grew up in Georgia and the other one grew up in California. So both of them are really used to the heat, so they said the heat won't bother them. But we asked them to get in tip-top condition because we don't have much time to waste and we don't want them to get injured. But they'll be ready to go."
Q: How has Phillip Gaines looked so far this year?
THOMAS:"We think he's gotten a little stronger, which will help. He's competing a little bit better, he's definitely in better condition than he was last year. He's getting his hands on a lot of footballs, we just hope they turn into interceptions and not just PBUs."
Q: It looks like the defensive secondary is having a lot of fun out there on the field?
THOMAS:"Well one day Coach Reid came down and kind of stuck a burr under their saddles and kind of upgraded their play in that particular part of practice and they stood up to the challenge and had some success. But we're still in shorts, but they are competing."
Q: You're getting Jeremy Maclin and Jason Avant who have both had a number of years in this offensive system. How much of a game changer is that for what you guys are doing?
NAGY:"That's important because what you get is guys that know the offense – now Jeremy had two years away from it, Jason coming in last year to come back into it – but they are very friendly in the offense because they get all of it inside-out, so they've been in it for awhile. So coming back for Jeremy, it was kind of like riding a bike, you just kind of refresh your memory, you come back and you get at it. And that's kind of really what he's done with Alex."
Q: What's Alex been working on the most so far in OTAs?
NAGY:"The big thing, and we were just talking about this earlier, is working on some of his technique and fundamentals individually and trying to take what we saw from last season, things that we could improve on and incorporate it in our own offense this year. Really I'd say the big thing right now is just focusing on some footwork and meshing that up with the timing with the receivers."
Q: Do you remember we talked about trying to get Alex a little more aggressive in his decision making, how's that going?
NAGY: "You know, being the third year now for him, it's become a little more natural. That third year I think is so key to be able to focus. Really to tell you the truth, this offseason we're doing a lot more fundamentally for him, the progressions, the footwork and everything that goes along with it, it all kind of goes together. We're still focusing on that, we always do, but I'd say this year we've been a little bit more towards technique and fundamentals."
Q: Alex was talking about, that maybe improved footwork might help with all of that and improved throwing motion.
NAGY: "Yeah, the timing with everything, the timing with the wide receivers. Working with our feet and really self-evaluating our own footwork, mechanics, at our position and how it meshes up with some of the stuff we're doing on the offense."