The Kansas City Chiefs are well represented at the 2014 NFL Scouting Combine, including their head athletic trainer Rick Burkholder, who on Wednesday was voted as the president of the internal-link-placeholder-1, which is a Professional Association, representing the athletic trainers of the National Football League. The society's mission is to serve the players of the NFL, the member Clubs and other members of the community, while ensuring the highest quality of health care provided to the National Football League.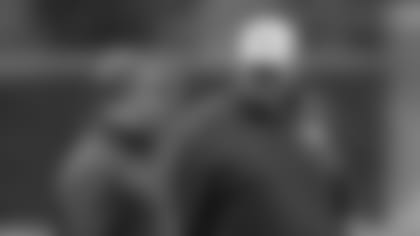 "It's a great honor and it's also a lot of responsibility," Burkholder said. "When I won, I was thrilled, because my dad's an athletic trainer and so, I've watched this group of men known as PFATS, when I was a kid; they were my role models. I'm also excited, because I think the Kansas City Chiefs deserve to be represented at the league level and I had the opportunity and I went with it."
Burkholder says there are currently 109 members in the society that meets every year at the combine and other times as well.
"My thing is," Burkholder said. "Being the president of PFATS, I want our group to have an impact on high school athletic training and safety for the players and Heads Up Football and USA Football and Pop Warner and all of that; I want us to have impact and influence in the game, throughout the country."
PFATS newest president said before he ran for the position, he wanted the thumbs-up from his wife, Christine, and coach Reid.
"I cleared it with coach, before I ran, and I cleared it with my wife, because it's a lot of responsibility," Burkholder said. "My wife, Christine, she's the rock of the family; she gets it and she understands my passion for athletic training. You've got to have a head coach that supports you, too. There's no better man in this league; there may be some as good, I doubt it, but there's nobody better than Andy. He gets the big picture of the National Football League. He understands that we want to win the Super Bowl, but he also wants to live to thrive and if you have enough good people in leadership positions, you'll thrive. He was very supportive about that. It meant a lot to me to be able to tell those two people in my life that I was going to do this, because it reflects on them."
Coach Reid was quick to congratulate his good friend and trusted colleague.
"He means a ton, in so many ways," coach Reid said of Burkholder. "Remember that (Chiefs equipment manager) Allen Wright, Rick Burkholder, and (Chiefs head strength and conditioning coach) Barry Rubin are the first guys the players see, when they come into the building. So, those guys start the day off for the players. The responsibility that Rick has from a medical standpoint for the players, that's their livelihood. How they feel day-in and day-out is part of Rick's responsibility; that's a big order. To be able to handle that, the way he does, is just phenomenal." 
On Thursday, coach Reid said he has a lot of trust in John Dorsey; the same can be said for coach's confidence in Rick.
"I have the utmost trust in him," Reid said. "And now that he's the president, I have even more trust in him."
With a smile on his face, Burkholder refused to make this prestigious honor only about his personal achievement.
"I feel like the Chiefs deserve this," Burkholder said. "I'm absolutely thrilled to wear the Chiefs hat as the president of PFATS."
Speaking on behalf of Chiefs Kingdom, Rick, we're thrilled to have you, the best head athletic trainer in the business.