Since taking over as the team's head coach, Andy Reid's attention to detail has been obvious on the football field and other places as well, like the locker room. The players' lockers are arranged according to position group, allowing for greater unity. Every decision made by coach Reid is backed with purpose.
"Little things are very important," coach Reid said during OTAs. "The little things add up if you don't take care of them and become big things. So, we're going to make sure we focus on those and we're not going to let those things slide. The players don't want that; they don't want the things to slide. They're trying to do it the right way and that's the way they've approached it since I've been here. That's a tribute to Romeo [Crennel] and Scott Pioli for things that they taught and the foundation there and we're trying to build on that."
No detail is too small for coach Reid and his staff; they want their players to do avoid distractions and focus on what will make the Chiefs a better team, now.
"It's the work ethic right now – guys trying to get better," coach Reid said.
"There are a lot of little things that determine whether you're going to be an average team or a good team and are you going to be fundamentally sound against all the different looks, whether you're on the defensive or offensive side, so you've got to spend time at it. It's not good enough just to learn the play, let's learn it inside and out. Let's learn all the leverage positions you need to be in. And the guys are doing that, they're working at it. Normally those little things, that's what counts, but normally those are the things that the players will back away from. OK, I've got the route, but what are the intricacies of that route? I've got the coverage, but exactly how does that tie in with my linebacker or safety or whatever it might be? They're concentrating on that and they're working on that very well."
Coach Reid's desire for success is overshadowed by his commitment to see his players succeed, even if it means stopping a drill to ensure the players grasp what he's trying to teach.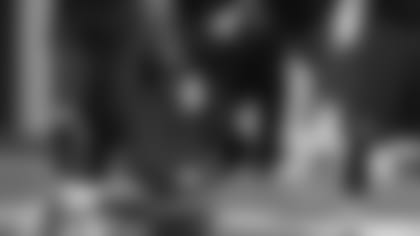 Chiefs WR Dwayne Bowe said that whenever he or his teammates are corrected by coach Reid and/or his staff, it's with good reason.
"It tells me everything about a coach with that caliber, who wants to be great himself and also his players," Bowe said.
"The extra time he takes out to make sure guys get it right; you have to respect him and know that he's trying to get you better and not look at it as a punishment. When you get to this level, when coaches discipline, guys think they're getting punished, but he wants you to be great and pull it out of you by the way that he coaches."
The lessons coach Reid teaches on the field are also meant to motivate the players off of it, as well.
"I think hard work, both in the classroom and on the field, are important," coach Reid said.
"And they're willing to do that, that's what I've seen this offseason. When you do that and you work your fundamentals, that's something that you can get out of these camps. And that helps you, once you put the pads on and things begin lining up, once you get to training camp. But for right now, let's get this system down, both mentally and physically, and when we hit camp, we can hit camp running."
Chiefs WR Tyler Shoemaker says attention to detail and always being ready are key, regardless if you're getting reps with the ones, twos, threes, etc.
"I think the biggest thing is preparation," Shoemaker said.
"I think every day you just have to pick something specific to you, that you want to work on; repetition is the only way you're going to get better, especially with this offense and the speed that we go through things. You really have to pay attention and then always try to take steps forward; it might be a big step, it might be a small step, but as long as progress is being made, you're doing alright."
The Chiefs will take further steps of progress, later this morning, when their practice begins at 11:20 AM CDT.