They are integral members of society who serve as the stewards of future generations, selflessly stepping forward to ensure that every child is provided with their right to an education.
These upstanding individuals are otherwise known as teachers, and Kayla McClellan, who teaches American History and AVID (Achievement via Individual Determination) at Lincoln Middle School, is among the very best of them.
McClellan was recognized two weeks ago as the first-ever honoree of the Norma Hunt Super Bowl Champion of Education program, which seeks to distinguish female educators for their commitment to education, their dedication in the classroom and their selfless service to the next generation of students. As part of the honor, McClellan was invited to attend Super Bowl LVIII in Las Vegas.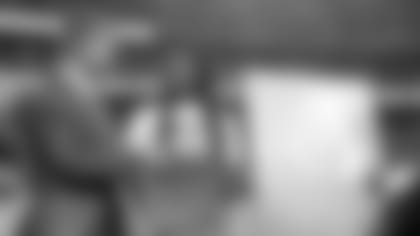 A former Kansas City Public Schools and Missouri Regional Teacher of the Year, McClellan has been described by her peers as "the ideal educator" who explains lessons in various ways in order to ensure that they're understood. She emphasizes the importance of simple values such as confidence, time management and basic study skills, working as a consistent and dedicated professional whose own experience serves as a driving force behind the educator that she is today.
"I wasn't a great student," said McClellan, who was demitted from Lincoln Middle School as an eighth-grader. "My parents wanted me to go to college, but I wasn't sure if I was going to be successful."
She eventually gave higher education a try, however, and it turned out to be a decision that changed her life.
"Dr. Johnson was one of my professors who really saw something in me," McClellan said. "He thought I would be successful at teaching, and he said that there weren't a lot of people like me doing it. There weren't enough black women – or black individuals, in general – in these programs. He encouraged me to do something about that."
Indeed, in no time at all, it was clear that McClellan possessed a gift for not only teaching, but for communicating with young people. Her studies culminated with a master's degree and later led her back to Kansas City, where she began her career as a teacher at Northeast Middle School before returning to her former institution – Lincoln Middle – as an educator.
"When I first came back, I think I was a bit overwhelmed because I wanted to prove myself so badly. I wanted to prove to myself that I was worthy of being in this space," McClellan said. "You have to be worthy to teach our kids. It's a hard job and it takes a lot. Our kids deserve so much. I wanted to be this great teacher coming into this space because I know how much it means for our kids make it academically."
McClellan went on to prove herself time and time again, frequently excelling due to her unique ability to educate on an individual basis rather than relying on a generalized approach.
"I try to own it and be invested in different ways," McClellan said. "I want to show them something different than what they expect. I try to think outside the box and remind them that 'no' is never an answer."
Simply put, McClellan is someone whose dedication would make Norma Hunt proud.
The matriarch of the Hunt Family, Norma passed away on June 4, 2023. She was a loyal wife, a loving mother and a passionate football fan who believed in the power of sports and its ability to unite communities. A former teacher, Norma was also an advocate for education and the importance of setting up future generations for success.
It's for those reasons that the Chiefs announced the creation of the Norma Hunt Super Bowl Champion of Education program earlier this month, which honors Norma's passion for education, her lifelong love of football and her renowned Super Bowl attendance streak.
In fact, Norma was the only woman to attend every Super Bowl – from Super Bowl I to the Chiefs' victory in Super Bowl LVII earlier this year.
The Norma Hunt Super Bowl Champion of Education program will continue that legacy by sending an outstanding female educator to the Super Bowl on an annual basis, and as the program's first honoree, this new tradition will begin with McClellan in recognition of her tremendous contributions to our community.
"I just feel so blessed. It was genuinely a shock, and I think it was just so amazing and mind-blowing that I would be on someone else's radar to be honored on such a large stage," McClellan said. "It was an affirmation that what I'm doing is worth it."