It wasn't too long ago that the varsity football team at Lincoln College Preparatory Academy was practicing on a dirt field, and in some cases, at a nearby park.
The conditions were less than ideal – especially for a team that's undefeated through five weeks – and as of this season, the Blue Tigers' old field is a thing of the past.
Standing in its place is a beautiful, brand-new field that mirrors the iconic blue turf at Boise State University, providing the school – which is located only a block away from the site of old Municipal Stadium – with an absolute gem of a playing field.
The field – which was funded through an NFL Grassroots grant - will be officially dedicated on Friday as part of the Chiefs' "Fantennial" weekend in celebration of the NFL's 100th season, but cornerbacks Bashaud Breeland and Alex Brown were treated to a sneak peek of the new digs when they stopped by the Blue Tigers' practice on Tuesday.
"[This new field] gives them hope. They'll want to go out there and win even more now," Breeland said. "I'm just here giving them insights on some things that can make them better, help their technique and let them play faster."
Breeland - who returned a fumble recovery 100 yards for a touchdown in Kansas City's victory over Detroit just a few days prior – answered questions, took plenty of photos and even lined up at corner against one of Lincoln Prep's top wide receivers during the visit in an effort to pay it forward to the next generation.
"It means a lot to be out here because when I was growing up, I didn't have anybody that did this for me. I had to grow on my own," Breeland said. "It's a blessing for me to be in a position where I can help them and pass on some of the knowledge that I have."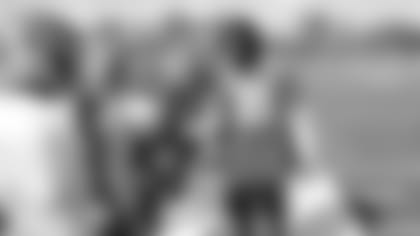 And it didn't go unnoticed, as Breeland's visit was just the Chiefs' latest interaction with the Lincoln Prep football team over the last few years, each of which has left a significant impact.
"It just helps our kids a lot to see the Chiefs giving back," said William Lowe, the Blue Tigers' head coach. "They can come here and tell our kids about when they were in high school, how much football means to them and teach them how to be a good member of this community."
That was certainly the case on Tuesday during Breeland's visit, and from the veteran cornerback's advice both on and off the field to giving the young athletes the incredible opportunity of competing against an NFL defensive back, it all made for a practice the kids at Lincoln Prep won't soon forget.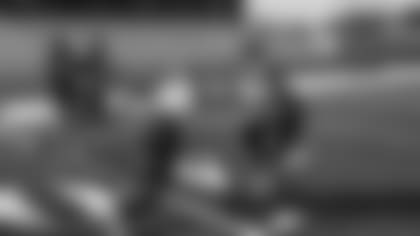 "Sometimes, high school kids will get into a 'me first' mentality or only be thinking about how they can score. The Chiefs have always done a good job of coming out here and telling them about the importance of being a good teammate," Lowe said. "That carries over in life, so it's always beneficial to hear it from somebody other than their coaches."
To learn more about the NFL Grassroots program, click here.