In just his second season with the Kansas City Chiefs, six-year NFL veteran cornerback Sean Smith had arguably the best year of his career in 2014.
He helped lead a Chiefs defense that ranked second in the NFL in allowing just 17.6 points per game, not to mention allowing just 51 total points in the fourth quarter, which led the NFL.
Developing as a leader for the Chiefs defense, which didn't allow a 50-yard completion, 300-yard passer or 30-plus points in any game this season (the only team in the NFL to accomplish any of those things), Smith impressed those around him with his approach this year.
"I think he started to realize to be a good football player you have to develop a level of consistency," Chiefs defensive coordinator Bob Sutton said of Smith. "That's to me, ultimately how you choose a guy to be a starter. You say, 'I can count on this guy to do this.' I might still want more from him but I know 90 percent of the time, I'm going to get this from it.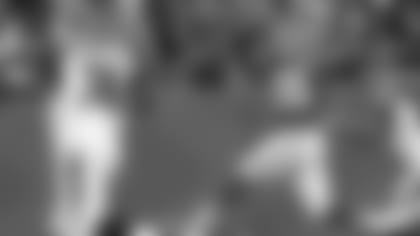 "If a guy fluctuates up and down all the time, it's hard for you as a coach to plan and what you think you can get done. I think that's where he's really improved."
Defensively as a whole, the Chiefs made substantial strides against the pass between 2013 and 2014.
In 2013, the Chiefs defense allowed 63 passes of 20-plus yards to opposing offenses, which ranked 30th in the NFL. But last season, the Chiefs tied for third best by allowing just 41.
In yards after the catch, the Chiefs ranked 27th in 2013 after allowing 2,250. But last season, they allowed just 1,645, which ranked fourth in the NFL.
Both of these stats reflect improvement in the defensive backfield, an area where Smith tried to be more of a leader this season.
"I've been trying to step up and be more of a leader in the secondary," Smith said after the season. "To compare this year with previous years, I just think I'm paying attention to detail a little more. I think by me being in this leadership role that I'm in right now, it kind of helps me do so because I'm not a real vocal guy, but I do like to lead with my actions."
Sutton believed Smith's development had to do with his preparation.
"I think he's really done a good job of studying," Sutton explained. "He knows formations, he knows splits and those things—I think it happens to everybody that you realize 'Look. A lot of this pre-snap information can make me a better player. I don't have to play every play, every route. I can learn this right now and have a really good idea of what's going to happen out here.'"
Smith pointed the credit of his success last season to two of his positional coaches.
"Coach Al (Harris) and Coach E (Emmitt Thomas) have done a great job of staying on us about technique and staying on top of the routes," Smith said. "On our side, it's just discipline, understanding that you can't gamble all the time. You have to kind of pick your moments and definitely understand situational football."
Smith's consistency and understanding of what Sutton and the defensive scheme wanted him to do was a major reason for the team's overall success this past season.
With the Chiefs beginning the season with two straight losses, then winning seven of eight before dropping four of their last six games, consistency wasn't a word to describe the season as a whole.
But it did define Smith's season, which should be acknowledged and also counted upon moving towards 2015.