The players filed in to the gymnasium, one after another, in support of a teammate and the collective goal of making a difference.
There were veterans, newcomers and rookies – individuals from seemingly every walk of life – all here, at the Gregg/Klice Community Fitness Center in the heart of Kansas City, to join an initiative that Kansas City Chiefs' cornerback Steve Nelson had been planning for well over a year.
The intent of this gathering was to explain the benefits of leading a healthy and nutritious life to those who may not have heard it otherwise, and as dozens of kids filled the gym on Tuesday night, Nelson did just that.
"This is something that I've been putting together for some time," Nelson said. "It's just about providing some information and some knowledge on how to live better – things like healthy eating – so that these kids can lead a healthy lifestyle."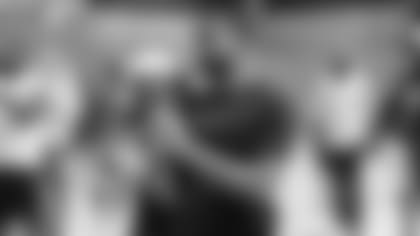 On hand for the event were Chiefs President Mark Donovan, Player Engagement Director BJ Stabler, and a host of other team representatives as a way demonstrating the organization's commitment to supporting social justice initiatives that are near and dear to the players.
"Eating healthy starts at a young age. I see a lot of childhood obesity nowadays and a lot of times, kids and parents don't know the importance of a healthy diet," Nelson added. "Hopefully, these kids can learn something here today and take it home with them."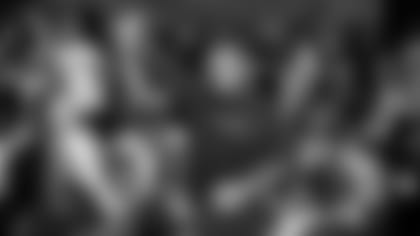 With that mission in mind, the players – along with a handful of professional nutritionists and chefs - led the kids and their parents through a variety of athletic drills and a meal-preparation activity focused on nutritious living.
"This is big. It gives this community exposure to things that they may not have access to on a regular basis," said Donald Strother, the Center Director. "Whenever we can provide events or do partnerships with organizations like the Chiefs that bring something to the community, it's huge."
And to further drive the message, all 12 of the players in attendance provided a testimonial on why they strive to lead a healthy life following the night's activities.
"My family has issues with diabetes, and I didn't eat perfectly as a young kid, so I was at risk of being a diabetic when I was in sixth or seventh grade," said defensive tackle Jarvis Jenkins. "It was good to be out here and to share with these kids the knowledge of what I learned back then to get them on the right path. If it gets bad early, it's going to be hard to correct, so getting that education early is so important."
That education is something that offensive guard Laurent Duvernay-Tardif, who recently completed medical school, knows plenty about.
"It's all about having a balanced plate. We talk a lot about sport nutrition, but there's also just nutrition in general," Duvernay-Tardif said. "A lot of people have trouble with their weight or heart disease or diabetes – those sound like pretty crazy words, but it happens. One of the key things that can prevent that from happening is just staying in shape and eating well.
"It doesn't have to be rocket science, just do one little step at a time and you'll see a big difference in your life."
From Jenkins and Duvernay-Tardif to the other 10 players who shared their experiences on Tuesday, every voice carried the potential to impact a kid in the crowd.
"For them to share all of that was cool," Nelson explained. "Each question was different, and everybody gave out their two cents. Maybe one kid took one thing from it and the next kid over grasped something a little differently."
It all wrapped up into something that each of the players could be proud of as the night came to an end.
"It went exactly how I envisioned," Nelson said. "I just love supporting the kids, and I think that they had a good time. We had a great turnout, and hopefully, the kids and their parents took something from it."
The event represented an opportunity for the players to give back to the community that they owe so much, and for Nelson, this was just the beginning.
"I just care so much, and I want my actions to speak for themselves in the community," Nelson concluded. "I've come to realize that this – giving back to people - is my calling."
Steven Nelson hosted a community event teaching local children the importance of eating right Tuesday.