The Kansas City Chiefs celebrated American Indian Heritage Month for a fifth-consecutive year at Arrowhead Stadium on Sunday as part of the Chiefs' ongoing commitment to honoring the Native community.
Representatives from more than 10 different tribes were on hand for a number of pregame and in-game events dedicated to observing Native American culture and educating the fans in attendance.
The event existed through a collaboration between the Chiefs and the American Indian Community Working Group, which serves as a liaison for the Native community and as an advisor to the Chiefs in order to promote an awareness and understanding of Native cultures and tribes in the region.
"The mission of our group is to create an awareness of Native culture and tradition in the community," said Gary D. Johnson, a member of Choctaw Nation and one of the Working Group's founding members. "[These activities at Arrowhead] are on such a big stage for everybody to see, which helps accomplish those goals."
The ceremony began with the Blessing of the Four Directions, led by Vice Chairman Fred Thomas and Treasurer Russell Bradley from the Kickapoo Nation of Kansas in the way of their people. The blessing was meant to bring a sense of preparation and good spirit to the afternoon.
It was an impactful moment that culminated in a roar from the crowd synonymous with Arrowhead Stadium.
"He performed the blessing in the Kickapoo language, but I asked him to provide his interpretation in English, too," Johnson said. "When he said, 'To protect and preserve our country and for it to remain free,' at the end, that led to a pretty good applause from the crowd."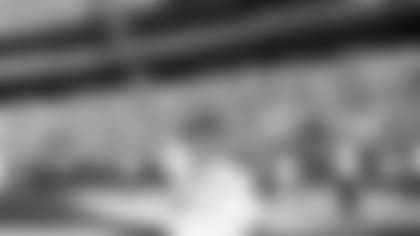 Following the blessing, Thomas and Bradley were joined by "the Young Bucks," a Native American drum group representing four different nations, in order to prepare the Chiefs Drum by performing a blessing and a special "Honor Song" so that it could be sounded in the Chiefs' tradition.
A drum is much more than just a musical instrument in Native cultures – it holds significant symbolic power. Traditionally constructed from the hides of animals, the drum possesses a powerful spirit representing the life of the animal. The beating of the drum is symbolic of the heartbeat of the animal, uniting those in attendance with the animal's spirit.
It's a task that's usually performed by an elder, but Sunday's ceremony allotted a 16-year-old with the opportunity of a lifetime.
"There were a lot of young boys in that group, which is unique," Johnson explained. "Normally, the drum group has an elder, but he wasn't able to come, so we had a young man leading it and he did so well. That group there is going to be the future, and reaching out to young kids in the Native community is one of the things that we've tried to achieve with our Working Group."
After the Honor Song, the colors were presented by the Native American Veterans of Kansas City as Erica Bread, a member of the Kiowa and Cherokee Nations of Oklahoma, performed the National Anthem.
The Color Guard, which regularly travels to powwows, athletic events and parades around the country, is the only known multi-tribal Color Guard in Indian Country. Additionally, each of the group's five members served in the United States military.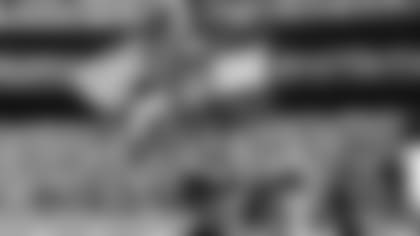 It all made for an educational morning that provided fans with a glimpse into Native cultures and traditions, and the festivities continued into the game itself.
Johnson, who is also a Chiefs Red Coater in addition to a founding member of the Working Group, served as the DiPardo Spirit Leader by banging the drum as the fourth quarter got underway.
"It was a priceless experience - I get emotional just talking about it," Johnson said. "It was just an honor on a couple of levels. For one thing, I got to provide recognition and awareness towards American Indian Heritage Month and to also remember my ancestors, and of others, that have moved on. It was a sacred feeling and just a great moment."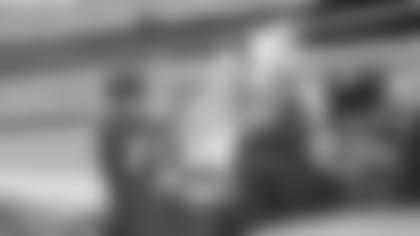 Johnson enjoyed that moment while wearing long snapper James Winchester's jersey, who, like Johnson, has Choctaw heritage in his family.
"It's something that I have a lot of pride in," Winchester said. "Just growing up with stories from my grandma, which is where my Native blood comes from, and getting to know members of Choctaw Nation has been special. Everybody is proud of their heritage, and I'm certainly proud of mine."
And, as Johnson's decision to wear Winchester's No. 41 jersey demonstrated, the four-year veteran serves as an inspiration for what individuals - and kids, in particular - of Native heritage can achieve.
"It provides them with a dream that they can set for themselves," Johnson said. "I remember James talking to a lot of kids a while back, and not every kid is going to make it to the NFL, but it gives them a goal to be somebody - whether that's a doctor, a lawyer, a coach or something else. They can believe, 'Hey, maybe one day, I can be like him,' and I can be proud of my culture while achieving a lot of great things."
"It means a lot to a lot of people," Winchester added. "To reach this level, and not that I'm anything special by any means, but just being in the NFL and having that Choctaw blood means a lot to people back home. It's cool to be uplifting to a lot of people in ways that you didn't even realize."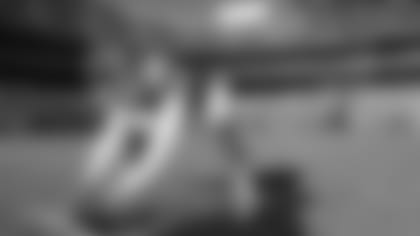 It's a special relationship that was featured on the biggest of stages on Sunday, and when coupled with the ceremony leading up to kickoff, the entire afternoon again demonstrated the Chiefs' commitment to learning from and celebrating the Native community.
"What's been unique about working with the Chiefs as a partner is we have a lot of parallels," Johnson said. "The things that we're trying to do as far as tradition and culture work simultaneously with what the Chiefs want to do. It works very well for all of us."