It has been more than 1,490 days since Andy Reid and John Dorsey were hired by the Kansas City Chiefs, and a lot has changed for the organization during that time.
In the four years before they took over, the Chiefs were 23-41 with one playoff appearance.
At the time of their hires, the Chiefs were coming off the third two-win season in franchise history, and the minus-214-point differential that season was the worst in franchise history.
That's when Chiefs Chairman and CEO Clark Hunt identified his guy, and he loaded up the Chiefs' contingent and flew to Philadelphia, where he spent nine hours at an airport meeting room talking with Reid, hoping to convince him to join the Chiefs after he had spent the past 14 years with the Eagles.
It worked, and a few days later, the Chiefs hired Reid's good friend, John Dorsey, as general manager.
It's a story that most of us know by now, and it's important to recall, as it's very easy to lose perspective of just how far the organization has come over the past four years.
Without a doubt, there's an expectation of winning now—fans can feel it and the coaches and players expect it—and while they haven't yet attained the goals everyone is striving for, the reach of those goals doesn't seem so far off now.
"I think probably the most important thing the two of them have done is built a winning culture," Hunt explained on Friday morning at radio row in Houston. "It's a culture that talented people, whether they're coaches, player personnel staff or players, they want to be a part of it. The NFL, and the sports business in general, is a people business and the only way you're successful in the field is if you have the best people.
"In those two leaders (Reid and Dorsey), we have guys who can set the direction of the franchise, but they can also bring in other great people to help us achieve those goals."
When Hunt targeted Reid as the next leader of the Chiefs, he knew of the consistency Reid had demonstrated throughout his career.
In 14 years in Philadelphia, Reid had twice as many division titles (6) as he did losing seasons (3).
In his first four years in Kansas City, Reid has had four straight winning seasons and won a total of 43 games, which is the second-best stretch for wins in franchise history (44, 1994-97).
"I think if you looked at coach Reid's success in Philadelphia, you certainly had a sense that we could enjoy that same success in Kansas City," Hunt explained. "Probably what has surprised me most is how quickly that success has come. We had the one year where we narrowly missed the playoffs, but other than that, we've been a consistent team, which was one of the things I was looking for.
"Reid has been the type of mature leader that I felt like we needed, and I think the players love playing for him and they've really embraced his message."
The 2016 version of the Chiefs, which won the AFC West division for the first time since 2010, had their season cut short with an 18-16 loss to the Pittsburgh Steelers at home in the divisional round of the playoffs.
While fans can feel the expectation of winning and the coaches and players believe in their ability to do so, that makes the sting of losing that much more difficult, particularly when they felt like things had set up well for them. 
"It's very, very hard to get over because those opportunities don't come along as often as you would like," Hunt explained. "We've been [fortunate] with Andy [Reid] and John [Dorsey] making the playoffs in three of the last four years, but getting that home game and being a step away from winning the AFC championship game, you want to take it.
"I wouldn't say I was angry, but the disappointment was hard to get over."
While fans have been disappointed because of the playoff loss and have found their own ways to cope, Hunt has his way of dealing with the frustration as well.
"What I would like to do is have no outside influence and hear nothing about the National Football League for a week or so," Hunt explained. "Once we got past the conference championship games, I was able to tune back in. But I still have friends that are either calling me or when they run into me, they can't help but bring up our season.
"They want to tell me what a great season it was, which is true, but it's also a tough pill to swallow because they all start off by saying, 'I know it didn't end like you wanted it to.'"
When asked how he handles those conversations, Hunt leaned back, smiled, and said something similar to what most fans would say.
"If it's a close friend, you slug them," he laughed.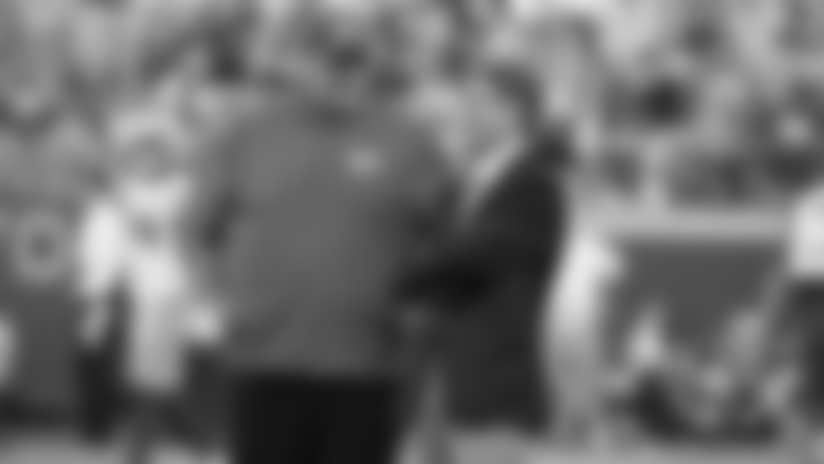 Overall, Hunt said he's happy with the direction of the organization—the culture breeds winning and the team has progressed every year.
"I do think it's a good enough team to win the Super Bowl," Hunt explained. "I absolutely think so. The trick is we need to keep building on what we have every year. Every year you're going to have turnover; 20-25 percent of your roster typically will change with the young guys every year.
"We were good enough to make it this year, we just didn't get it done. The key is to keep giving yourself shots by making the playoffs so you have more opportunities, and that's a hallmark of Andy's career."
Hunt said he believes there are between six and eight teams every year who are good enough to win the Super Bowl, and the fact that the Chiefs are one of those teams shows just how far they've come.
It seems like just a matter of time.