When it comes to the running back position, the Kansas City Chiefs have the type of problem any team would love to have: frankly, too much talent.
At the time of this article's publishing, Spencer Ware is sixth in yards from scrimmage with 646, and everyone ranked above him has an extra game played.
Jamaal Charles is the franchise's career leading rusher, and his enthusiasm after returning from a yearlong rehab stint is [unparalleled](https://www.google.com/webhp?sourceid=chrome-instant&ion=1&espv=2&ie=UTF-8#q=training wheels pete sweeney).
Charcandrick West had a breakout season last year, and you could make the case that he would be the starter for a lot of teams in this league.
So what in the world do you do when you have to game plan with this much talent?
Co-offensive coordinator Matt Nagy, one of the few in charge of doing just that, explained.
"I think if you just look at it from the big picture, you have three guys that are always going to be, if you rotate them the right way, full of energy," he said. "They're not going to be tired with 50 percent, just a long run and they got to go back in, so you can rotate guys that way. When you take them as far as their skill set, it allows you as an offense to do different things, whether it's in the pass game or pounding the ball up the middle or keeping them guessing on either, so for us, the beauty is all three of those guys do something really well, so we try to place them in situations as possible."
Each player essentially offers the Chiefs an entirely different look.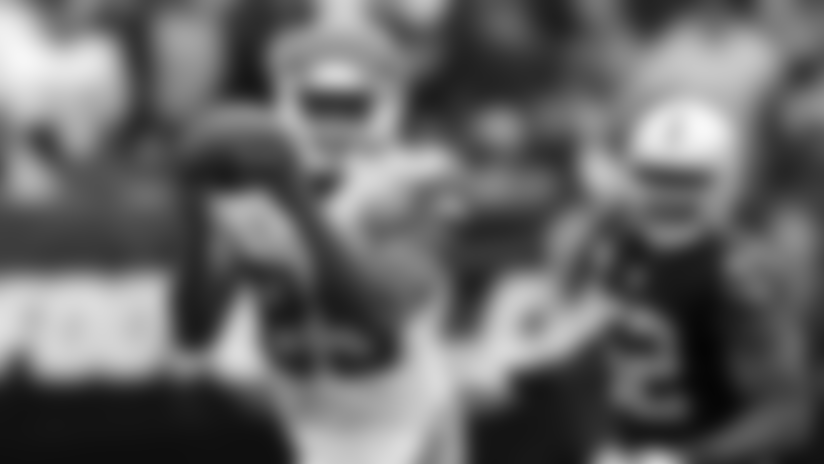 "I think when you think of Jamaal you obviously think of speed, when you think of Spencer, you think dynamic, and with Charcandrick, he's just all-around—blocking, running, catching, he just does it all, so he's kind of that joker, that wild card."
In last week's game against the Raiders, Spencer Ware was on the field for 40 offensive snaps, Charles had 15 and West had 8. The trio, led by Ware's 163, finished with 229 all-purpose yards in the game.
"I think because those guys can all do so many different things, you sometimes don't worry about [snap counts]," Nagy said. "Then you just go ahead, when the game plan is all in, you might see how plays are going and try to get into that play for a particular reason."
The beauty of it all for the Chiefs is that each player has bought in, and it's visible through their interaction at daily practice and on the sidelines of games.
Each player roots for each other, no matter who is playing at the time.
"They're one for all and all for one. They really are," Nagy added. "They support each other. Jamaal has been great since he's been out. Whoever it is that's in there, they got their back, and that's huge."
Maybe the problem isn't really much of a problem after all.