A thrilling road win over a division rival had many throughout Chiefs Kingdom celebrating late into the night, but after the Kansas City Chiefs' (8-3) improbable 30-27 comeback victory over the defending Super Bowl champion Denver Broncos (7-4) on Sunday night, the vibe inside the locker room was only on the bigger picture.
"I turned it over to Eric [Berry] in the locker room after I said my words," Chiefs coach Andy Reid explained after the game. "The point is that we're not satisfied. As a team, we're not satisfied with this. You come in and expect to win games. That's the approach you take."
While some may have expected the team to be on cloud nine after the overtime victory—a win that should help change a national narrative about this Chiefs team—the goals for this team are simply bigger than a road win in Week 12.
Thanks to a dominant defensive performance in the first half, and then some timely offensive play late in the game, the Chiefs were able to pick up their eighth straight victory over a division opponent and their second straight win in Denver.
Trailing by eight points with three minutes left in regulation—just moments after a 76-yard touchdown from quarterback Trevor Siemian to receiver Bennie Fowler on third-and-2, which extended the Broncos lead from one point to eight, the Chiefs had an uphill battle in hostile territory.
The building was literally shaking on every third down for the Chiefs' offense.
They needed to go 75 yards for the touchdown against the NFL's No. 3-ranked defense, and on top of that, they'd need to convert a two-point attempt just to extend the game into overtime.
And that's exactly what happened.
At one point in the second half, the Broncos had a 98.1 percent chance of winning the game, but what we've learned about this Chiefs team over the past few years under Reid, Berry and company is that you never count them out—regardless of the odds.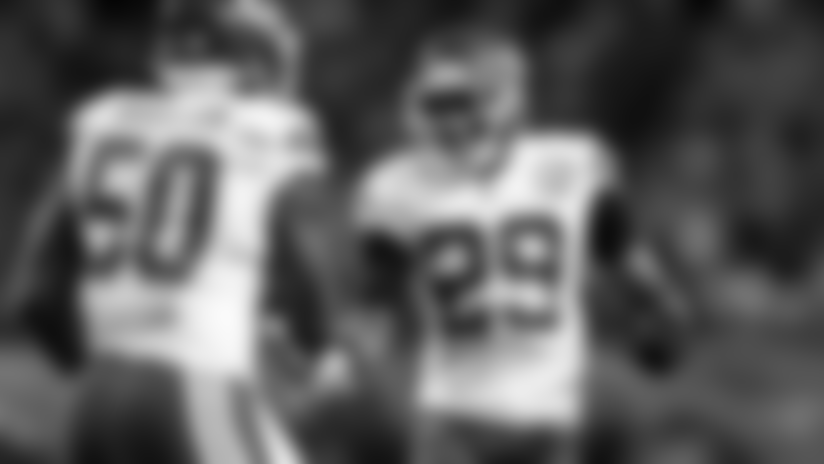 Berry is a player who personifies overcoming the odds for everything both on and off the field, and he spoke after the game about what Sunday's win tells us about this team.
"It just shows that we know how to win when the game is on the line," Berry explained. "That's it. I'm looking down the road. That's just how I rock, period. I'm going to enjoy it. I'm excited for it. I'm glad we showed heart. There are a lot of things we can clean up that keeps us out of that position from the beginning.
"We can do a lot of things on the front end that keeps us from having those stresses on the back end. That's where my vision is at. It's a good win. I'm going to enjoy it, but we've got another game on Sunday."
That's leadership personified.
Berry's message was that there was never a hint of doubt that it'd be possible, but enjoy the moment for what it is and then work to try and make it easier next time.
"This is always 60 minutes of whatever it takes," Berry added. "If you give everything you've got at every practice, it becomes a habit. It's a culture. If you're not a starter, you'd better look at yourself as a starter because you're the next man up.
"This is the NFL season, so if somebody goes down, the next man has got to be ready. We can't have any excuses."
The Chiefs, who were without the NFL's co-leader in sacks in linebacker Dee Ford, starting defensive lineman Jaye Howard, cornerback Steve Nelson and veteran receiver Jeremy Maclin, went up against a healthy Broncos team on the road—a team that was 11-1 at home in primetime games over their last 12, and won a game in which their character was put on display for the entire country to witness.
One of the players who has shown more character this season than perhaps anyone on the team is quarterback Alex Smith, which, by the very nature of the position he plays, is always going to be under scrutiny.
The way in which he's handled himself, while continuing to win more games than any quarterback in franchise history this early in his tenure in Kansas City, is special.
"I have respect for the guy," Reid said of Smith. "The way he handles himself is just top of the line, so [we're] lucky to have him. Very unappreciated outside these walls. Since he's been back from the hit to the head, things haven't gone as smooth as they were going prior to [the game against the Colts].
"He just kept battling. Everybody is down on him but he comes through and he shows his mental toughness and pushes through."
From the time the Chiefs had the ball with three minutes left in regulation and having to drive 75 yards to try and tie the game, to the end of the game, Smith was 12 of 20 for 122 yards with a touchdown and a two-point conversion.
Perhaps the biggest play of the game was Smith's fourth-and-10 red zone completion on the touchdown drive late in regulation to tie the game.
The pass went to rookie fifth-round pick Tyreek Hill, who caught the 10-yard completion on an out route on the far side of the field.
It was a big play on a day in which there were many for Hill, who scored three touchdowns in three different ways on Sunday (one receiving, one rushing, one kickoff return).
On the very next play, Smith went in Hill's direction again. The result was a 3-yard touchdown, and then needing the two-point conversion to extend the game, Smith rolled right and found tight end Demetrius Harris for the game-tying score.
"People will talk and will say what they want to say, but we believe in [Smith] in the locker room," veteran Justin Houston, who finished with a team-high 10 tackles, three sacks and a forced fumble that led to a safety, said. "That's all that matters."
The mindset in the locker room is always on the bigger picture, and this team just keeps winning games in which many count them out.
At some point, people will learn not to do that, but until then, these guys will not be satisfied with a nice road win over a divisional opponent.
It's a few high-fives and "'atta boys," and then it's on to Atlanta.