The Chiefs hosted a reception at The University of Kansas Hospital Training Complex to celebrate the release of the 2013-2014 Chiefs Community Report. Those in attendance included individuals who are shown on the pages of the report or individuals who represent the organizations featured in the report.
"The Chiefs Community Report highlights our community efforts and is a chance to thank all of the outstanding partners that work with the organization throughout the year," Clark Hunt, Chiefs Chairman and CEO, explained. "This unveiling event gives us an opportunity to celebrate the people who were part of the 2013 community efforts and it is also a time to look forward to 2014 with optimism and dedication toward making a continued impact."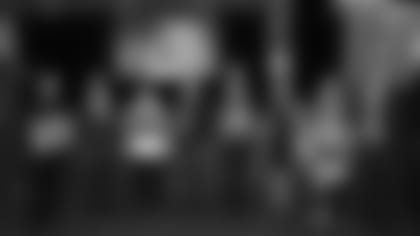 This is the second year that the organization has created a Chiefs Community Report and this event gives the Chiefs an opportunity to celebrate the individuals who were part of the community efforts. One of the organizations featured in the report is TeamSmile, which provides free dental care for children in the community.
Each year, Arrowhead Stadium's Tower Club is transformed into a dentist office. Local dentist offices closed up shop for the day to volunteer their time to children in need of dental care.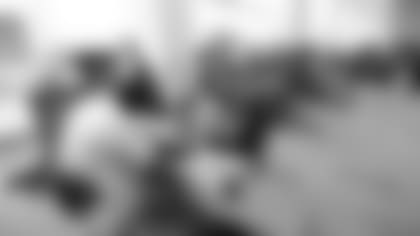 "All the kids who are not able to get the proper dental care come to this event to receive the treatment that they need at Arrowhead, as well as in six months when they go back for a follow up visit with these dentists," LS Thomas Gafford commented. "When you're a kid you don't want to go to the dentist, you're a little nervous, but when you come to TeamSmile it's a fun and we're all here to try and make it easier for these kids to visit the dentist."
One of the photos featured in the community report is head coach Andy Reid and a young boy at the TeamSmile event, Ben Bond. Ben, along with his brother Drew, has ectodermal dysplasia, a rare genetic disorder, which affects hair follicles, tooth buds and sweat glands.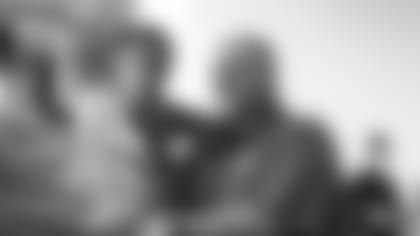 "TeamSmile and Dr. Busch are providing amazing dental work for my boys that we would not be able to afford otherwise," Carrie Bond, mother of Ben and Drew, said. "It's such a huge blessing because Ben and Drew both have extensive dental work needs. Drew only has four top teeth and Ben has cleft lip, cleft palate and his teeth came in with no enamel, so it's constant dental work."
The family is unable to afford all of the dental work needed for Ben and Drew because it is not covered by insurance since it is considered "cosmetic," rather than reconstructive. However, thanks to TeamSmile, these 10-year old boys will get a smile they've always wanted.
"They are giving my boys smiles, that we could not get for them any other way," Carrie Bond said. "They are at the age where they recognize that they look different, so this means the world to us. It's such an amazing program and I'm so happy that Ben got a photo with Coach Reid and that now it's in this report. I'm so happy for him."